Tag:GS3 || Economy || Banking & Financial Sector || Commercial Banking
Why in news?
India Yes Bank bonds slump by record after the stock crash.
The share price has gone to the lowest since 2009.
 About Yes Bank:
Yes bank limited is an Indian private sector bank.
Founded: by Rana Kapoor and Ashok Kapoor in 2004.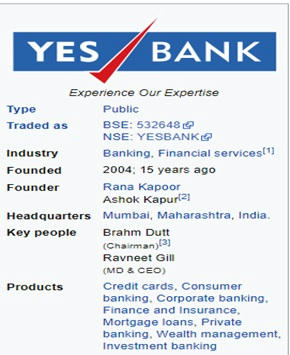 It primarily operates as a corporate bank with retail banking and also asset management as subsidiary functions.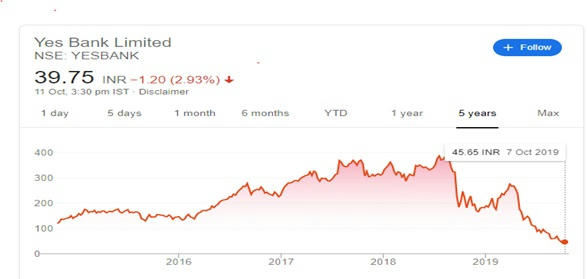 Bond prices of Yes bank:
Yes, the bank has slumped by a record in the bond market this month.
Dollar bonds of yes bank ltd. slumped a record 5.5 cents to 80.9 cents on the dollar the lowest since the bonds were sold in 2018.
 When the crisis started?
Crisis at yes bank started last year when RBI demanded the bank's founder Rana Kapoor to step down as CEO.
It was following a spat over breaches of confidentiality and regulatory guidelines revealed in their inspections.
Since then the bank witnessed an 81% decline in its market stock price.
Till now, nearly 40 brokerage firms have given negative rankings to yes bank stocks.
What is the problem?
Yes bank has the highest stress among banks both public and private with estimated stress of 54.5% of reported net worth of financial year 2018-19 with a total exposure of Rs 147 billion as of 2018-19.
This is followed by Bank of Baroda with 37% stress with Rs 189 billion exposure and IndusInd Bank has 30.4% stress against 81 billion exposure.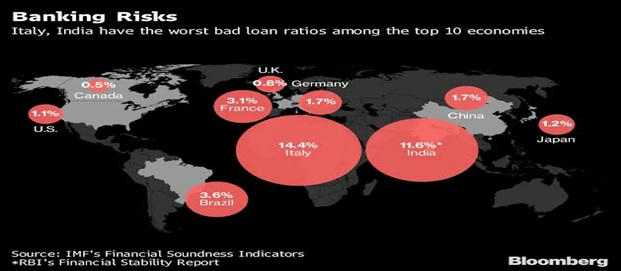 NBFC Problem:
The bank is at the epicenter of rising stress in India's credit markets where shock defaults last year by a major infrastructure lender have led to broader strains at other shadow banks.

Furthermore, yes bank also has the highest exposure toward entities classifies as high risk such as –

ADAG(finance), Cox & Kings, CG power, DHFL, Essar Shipping Mcleod Russel, which was reported as 102.6 billion.
For example, India's yes bank shares sink as jet airways hurts exposure hurts.

According to Bloomberg intelligence analyst, the stocks and bonds both are reflecting investor concerns on asset quality where slower resolutions and rising stress could continue to pose pressure.
Concern:
Small- and mid-sized lenders are being hit the hardest amid a steady drip of reports of financial irregularities and surging bad loans.
Conclusion:
In a regulatory filing, Yes Bank said that it has requested the authorities to form a multi-disciplinary team of experts for detecting the origin of the fake news and assess the short-sell positions, held either directly or indirectly by such accused persons.
 References:
https://www.latestly.com/india/news/jet-airways-crisis-effect-yes-bank-shares-plunge-30-805783.html
https://economictimes.indiatimes.com/markets/stocks/news/yes-bank-sparks-selloff-in-lenders-as-wary-investors-exit/articleshow/71375613.cms
https://www.thehindubusinessline.com/money-and-banking/yes-bank-bonds-slump-following-stock-crash/article29573499.ece
Make Notes