Tag:GS 2 ||Polity||Political Dynamics||Pressure Groups
Why in news?
A group of anonymous Infosys employees called "Ethical employees" has complained against the management for indulging in the financial irregularities.
The complaint said "Critical Information" has been hidden from the auditors and the Infosys board" and "Revenue recognition matters are forced which are not as per accounting standards".
As a result, the United States Securities and Exchange Commission is also currently probing allegations against the company, while market regulator Securities and Exchange Board of India (SEBI) has requested additional information on the matter.
Definition of Whistle blowing
Whistle Blowers Protection Act,2011 defines it as " Disclose an act of corruption, power misuse by public servant".
Companies Act 2013 defines "Disclose an unethical practice in an organization".
All listed and public sector firms need to have a whistle blowing policy.
A whistleblower is the one who chooses to expose wrong practices and has evidence to support the allegations. They can be either from within or outside the organization.
Whistle Blowers Protection Act, 2011
In India whistle Blowers are protected by this act.
The law provides for the protection of their identity and also has strict norms to prevent their victimization.
Commonly known as the Whistleblower's Act,it seeks to establish a mechanism to register complaints on any allegations of corruption or willful misuse of power against a public servant
The Bill seeks to protect whistleblowers, i.e. persons making a public interest disclosure related to an act of corruption, misuse of power, or criminal offence by a public servant.
Any public servant or any other person including a non-governmental organization may make such a disclosure to the Central or State Vigilance Commission.
Every complaint has to include the identity of the complainant.
The Vigilance Commission shall not disclose the identity of the complainant except to the head of the department if he deems it necessary.  The Bill penalises any person who has disclosed the identity of the complainant.
The Bill prescribes penalties for knowingly making false complaints.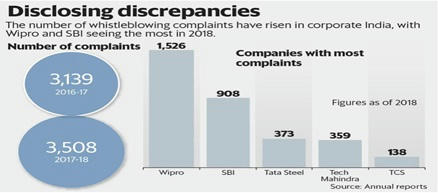 Way forward
Government needs to make stringent laws to protect whistle blowers and Anonymity of the whistle Blowers should be maintained and Allegations must be enquired and guilty should be punished.
Fake cases of whistle blowing to be determined
The market regulator recently introduced a tipping mechanism. SEBI will award up to ₹1 crore for information and successful action against insider traders. It has also created a "cooperate and confidentiality" This means that if someone guilty of violating securities law is willing to assist in the larger probe, the person
Sources
Indian Express, Money control,Livemint, PRS website
Mains Question
Explain the Role whistle blower in preventing the corruption in an organization. What are the legal protections for the Whistle Blowers in India?
Make Notes