Tag:GS2 || International affairs || India & it's neighbours  || China 
Why in news?
"The United States calls on the People's Republic of China to immediately end its campaign of repression in Xinjiang, release all those arbitrarily detained, and cease efforts to coerce members of Chinese Muslim minority groups residing abroad to return to China to face an uncertain fate," the US statement said.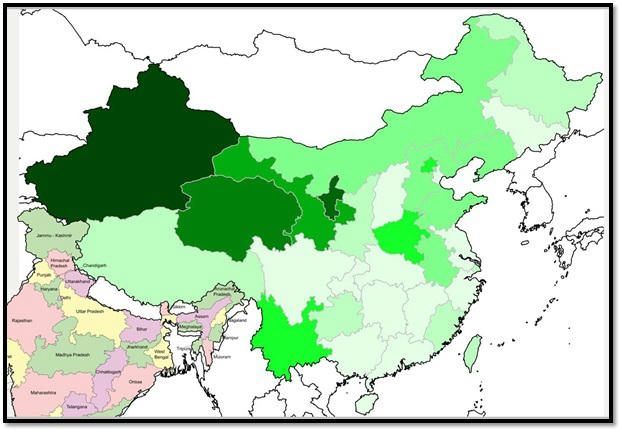 U.S.A targeting china over detention centers :
The US has said it will impose visa restrictions on Chinese officials accused of involvement in repression of Muslim populations.
It follows the decision on Monday to blacklist 28 Chinese organisations linked by the US to allegations of abuse in the Xinjiang region.
US Secretary of State Mike Pompeo said the Chinese government had instituted "a highly repressive campaign".
Brief background of the China's Xinjiang issue:
China's Xinjiang province is situated in the North-West of the country, with an area of 1.6 million sq km, the landlocked region makes up one-sixteenth of China's territory and borders Russia, four former Soviet Central Asian Republics (Kazakhstan, Tajikistan, Kyrgyzstan, Uzbekistan), plus Mongolia, Pakistan, and Afghanistan.
Xinjiang's crisis is a result of growing discontent among Uighur people that was fuelled by China's domestic policy in the region. Many of the Uighurs has grievances that are driven by ethnic, religious and cultural factors.
The development, from the 1950s, of mineral resources and the opening up of the region for cotton production, brought an influx of ethnic Chinese which dramatically altered the province's ethnic balance. In 1949, Xinjiang had 3.2 millions Uighurs and only 140,000 Chinese. Now, of the total population, 40 per cent are Han, and only 47 per cent are Uighur. Uighurs fear they might soon be significantly outnumbered.
Initially Han Chinese migration to Xinjiang was officially encouraged to support agricultural development and to promote security with respect to a possible Soviet threat to the lightly populated territory. Later China's strict one-child policy has been waived for Han Chinese willing to move to Xinjiang; they are therefore allowed to have two children, a fringe benefit which encourages further immigration.
The majority of Uighurs still lives in rural areas or the poorest areas of towns and cities. Many Chinese immigrants have moved into newly constructed apartments and have taken most of the jobs in new factories and firms.
In an attempt to close the gap in income and wealth terms between the rapidly growing eastern coastal provinces and the western China 1999 Chinese President Jiang Zemin launched the Western  Development campaign, popularly known as "Go West!". Jiang's plan focused on massive infrastructure investment in Xinjiang, Tibet, Ningxia Hui Autonomous Regions, Qinghai, Gansu, Sichuan, Yunnan, Shaanxi, Guizhou provinces and Chonqing municipality – totaling 56% of China's land area and 23% of the population. The results in Xinjiang of the campaign show an impressive record of achievement on the part of the Chinese Authorities.
The quality of life of local residents has been noticeably improved. Life expectancy in Xinjiang has been extended to 71.12 years. The demography of Xinjiang shows the features of low rate of birth, low rate of death and low rate of increase.
But the economic development without a comprehensive political and social approach to allay the fears of the Uighurs proved to be equally counter-productive. The local Han population has benefited from these economic projects but the Uighurs feel left out.
Private employers in Xinjiang are more inclined to hire Han Chinese workers than local Uighurs who are disadvantaged by language and technical skills. These measures have increased socio-economic imbalance between Uighurs and Hans and aggravated the discontent among local Uighurs.
Make Notes