Tag:GS -2|| International Relations|| India & Rest of the World|| USA
Why in News?
Turkey announced a military push into Northern Syria into Kurdish held regions.
US President Donald Trump also announced the decision to withdraw US troops from northern Syria, saying it was too costly to keep supporting its allies(Kurds).
 Background
Syrian Civil war (2011-ongoing)

Syria has been in a state of civil war since the 2011 uprising known as the "Arab Spring."
The Syrian government, led by President Bashar al-Assad, responded to the protests by killing hundreds of demonstrators and imprisoning many more.
In July 2011, defectors from the military announced the formation of the Free Syrian Army, a rebel group aiming to overthrow the government, and Syria began to slide into civil war.
The northern areas have been declared independent as Rojava (led by Kurds).
The civil war has triggered sectarian tensions (Shia-Kurds-Sunni), geopolitical rivalries (US-Russia; Iran-Saudi Arabia-Israel), and the global threat of Islamic extremism(Islamic State).
Who are KURDS?
Ethnic group in areas of Northern Syria, Iraq and Southern and eastern Turkey.
They wanted  Autonomy in Syria –SUCCESSFUL
YPG-peoples protection unit
PKK-Kurdistan workers' party (Turkey and Iraq).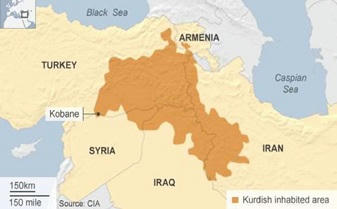 Syrian Democratic Forces
The Kurdish-led Syrian Democratic Forces (SDF) have spent years expanding its control across northern and eastern Syria, helped by the U.S.-led coalition against Islamic State.
A rare case of a winner in the Syrian war, the Kurds and their allies have set up their own governing bodies while always insisting their aim is autonomy, not independence.
Several western sources have described the YPG as the "most effective" force in fighting ISIL in Syria.
It would reverse years of successful Kurdish-led operations to defeat the armed group.
It would allow some of the surviving ISIS leaders to come out of hiding.
SDF has lost 11,000 fighters in the war against ISIL.
 Turkey's Conundrum
6 million (out of 5 Million) Syrian refugees are sheltered in Turkey.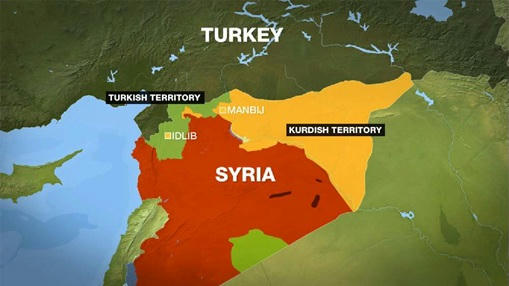 Turkey has two main goals in northeast Syria

To drive the Kurdish YPG militia which it deems a security threat away from its border.
To create a space inside Syria where Syrian refugees currently hosted in Turkey can be settled.

It had been pushing the United States to jointly establish a "safe zone" extending 20 miles (32 km) into Syrian territory, but repeatedly warned it could take unilateral military action after accusing Washington of dragging its feet.
This would be Turkey's third such incursion since 2016.
Motivated largely by the aim of containing Syrian Kurdish power.
Is the USA supporting this attack on Kurds?
Washington's forces "will not support or be involved in the operation" and "will no longer be in the immediate area", White House Press Secretary Stephanie Grisham said in a statement.
The main Western concerns are that an influx of Sunni Arab Syrians into the largely Kurdish northeast would change the demographics of the region.
Possible Scenarios
If the US pulls out all its troops from northeast Syria, the Damascus government may try to retake control of much of the region not seized by Turkey.
Ethnic violence
Resurgence of ISIL
Threat of ISIS coming back
Syria's Kurds warned that a Turkish military invasion would spark a major ISIL resurgence and vowed to battle Turkey's military.
Chaos could present an Islamic State with an opportunity to stage a revival.
The SDF has been conducting operations against IS sleeper cells since capturing its final territorial foothold earlier this year.
What can the Kurds do?
Reach out to Assad government: Talks over allowing the Syrian government and its ally Russia to deploy at the border (In Kurdish held territory).
Ransom international support: The SDF is still holding 5,000 IS fighters of Syrian and Iraqi nationality and a further 1,000 foreigners.
SDF may not be able to continue holding IS prisoners if the situation was destabilized by a Turkish invasion.
Impact on India
India was Impacted by the rise of the Islamic state after the turmoil in Syria. The extremist group IS (Islamic State), extended its reach to South Asia that homes the largest Muslim population in the world is of concern to India, which has significant stakes in the peace and stability in South Asia.
The threat was compounded by the fact that IS started attracting Indian youth.
Mains model question
What are the effects of the Syrian conflict on neighbouring countries? Is a political solution to the Syrian conflict possible? Discuss
References
Make Notes