Tag:GS3 ||Economy||Infrastructure||Communication
Why in news?
Recently Supreme Court has upheld the definition of Adjusted Gross Revenue (AGR) as defined by the Department of Telecom.
This makes the Telecom companies to pay as much as Rs 92,642 crore to the government
This was tug of war between the Department of Telecom and the Telecom companies since the decades. The "Revenue Share" model was the bone of contention between the two
Background
Telecom sector was liberalized in 1994 under National Telecom Policy 1994
Licences were issued to companies under section 4 of the Indian Telegraph Act,1885. These licence fee was very high and most of the companies defaulted the payments, so Telecom companies requested govt to reduce the licence fee.
These requests were addressed in National Telecom Policy 1999. It gave an option to the telecom companies to migrate from a fixed licence fee to a revenue-sharing fee and was made applicable in the year 1999.
Now government become the partner of the "Gross revenue". Fee was fixed as 15% of the "Adjusted Gross Revenue" (AGR)
The Gross Revenue shall be inclusive of installation charges, late fees, sale proceeds of handsets (or any other terminal equipment etc.), revenue on account of interest, dividend, value ­added services, supplementary services, access or interconnection charges, roaming charges, revenue from permissible sharing of infrastructure and any other miscellaneous revenue, without any set­off for related item of expense, etc.
Matter of Contention
Govt and Telecom companies differed on the definition of the AGR, Department of Telecom calculates the charges based on all revenues earned by a company including non-Telecom sources. Companies argue that AGR should comprise only the revenues generated from Telecom services.
In 2005 the Cellular Operators Association of India (COAI) has challenged this method of calculation of AGR. The TDSAT ruled in favor of the companies. TDSAT said AGR included all receipts except capital receipts and revenue from non-core sources such as rent, profit on the sale of fixed assets, dividend, interest etc.
TDSAT excluded some non core revenue from AGR and it stayed the demands made by DOT.
DOT challenged this at Supreme Court and SC ruled in favor of the DOT . this order paved the way for DOT to seek more than 1 lakh crore in dues, penalties and interests from the sector.
Response of the Telecos
It is a big blow to the Telecom companies which are already in the losses
Bharti Airtel and Vodafone has requested the Government to review the impact of the verdict on the sector.
Additional Info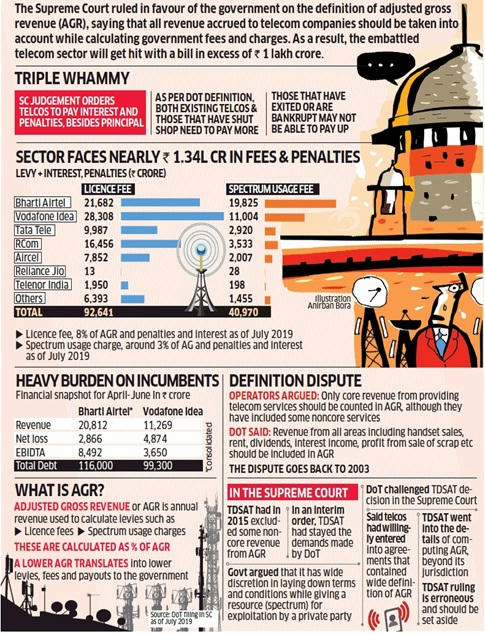 Make Notes