Tag:GS3 || Economy||Banking and Financial Sector|| NPA
Why in News
Recently, State Bank of India (SBI) has written off bad loans worth Rs 76,600 crore of 220 defaulters, who owed more than Rs 100 crore each.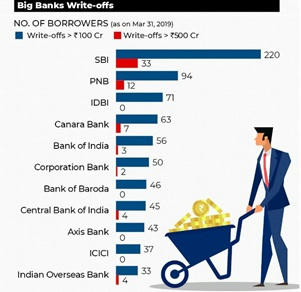 What is Write-off
A loan write-off is a tool used by banks to clean up their balance-sheets. And get tax deductions.
It is applied in the case of bad loans or NPA.
If a loan turns bad on the account of the payment defaults for at least 3 consecutive quarters, the exposure (loan) can be written off.
Banks can still recover the money of wrote off loans from borrower through legal means such as IBC.
After Writing off bad loans, any recovery made against them is considered as profit for the bank in the year of recovery.
How it Helps Banks
It sets free the money parked by the banks for Provisioning of any loan.
Provisioning means keeping aside certain percentage of the loan (varies from 5-20 %).
Example: If a bank gives a loan of 1crore it needs to make a 10% provisioning i.e to Keep aside 10 lakhs.
It gives a true and fair picture of the 'assets' that are making money.
The bank gets a tax break on the losses incurred.
Classification of Bad loans
Non performing assets (NPA) : It is a loan or advance where interest and/ or instalment of principal remain overdue for a period of more than 90 days in respect of a term loan.
Substandard Asset: An asset which remained NPA for a period of 12 months or less is called Substandard asset.
Doubtful asset: An asset that has remained substandard asset for 12 months is called doubtful asset.
Loss asset: It has been identified by the bank or internal or external auditors of debtors or by RBI inspection as loss.
Make Notes