Tag:GS-1|| Art & Culture|| Culture of India|| Awards & Honours
Why in news?
The Union Government has constituted Sardar Patel National Unity Award, the highest civilian award for contribution to India's unity and integrity. 
First Sardar Patel National Unity Award to be presented on 31 October.
  Sardar Patel National Unity Award
The Sardar Patel National Unity Award will be conferred to an individual, institution or group for outstanding contribution for the unity and integrity of India.
The award will be presented by the Indian President at a ceremony along with the Padma awards presentation at the Rashtrapati Bhawan.
The Sardar Patel National Unity award will comprise a medal and a citation.
It would not be conferred posthumously unless in very rare cases.
The award will not carry any monetary grant or cash reward. Further,
Not more than three awards will be given in one year.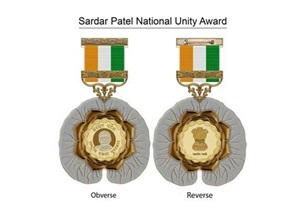 Sardar Patel National Unity awards committee composition
The awards committee, constituted by the Prime Minister, will include the secretary to the President, principal secretary to the Prime Minister, Cabinet secretary, and Home secretary as members and 3-4 eminent persons, who will be selected by the Prime Minister.
Sardar Patel National Unity awards nominations: Key Details
Any Indian citizen, institution or India-based organization can nominate an individual for the award.
Individuals may also nominate themselves for the award.
Besides them, state governments and UT administrations and government ministries can send their nominations.
The nominations will be invited every year. The applications would have to be filed online on a specific website designed by the
All citizens will be eligible for the award without any discrimination based on religion, caste, race, gender, birthplace, age or occupation.
National Unity day
National Unity Day (Rashtriya Ekta Diwas) is the birth anniversary of Sardar Vallabhbhai Patel, a famous personality for uniting India.
This day was decided and introduced by the central government of India in New Delhi in 2014 in order to observe the birth anniversary of Patel every year as Rashtriya Ekta Diwas.
It aimed to pay tribute to him for his great efforts made to unite India.
Key facts about Sardar Vallahbhai Patel
Sardar Patel was born on the 31stof October in 1875 at Karamsand, Gujarat.
He died on 15thof December in 1950 at Bombay.
He also requested the people of India to live together by uniting in order to create Shresth Bharat (Foremost India).
He is affectionately remembered as the "Iron Man of India" and "Patron saint of India's civil servants" as he established the modern all-India services system. In order to remember him annually,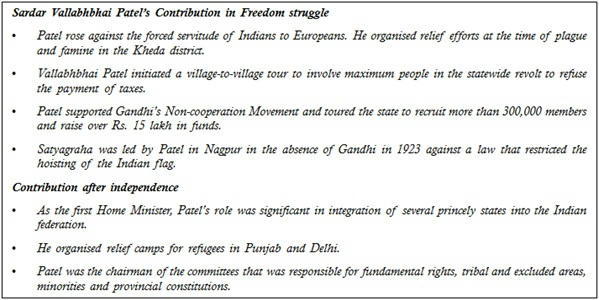 Mains Question
Is conferring the National unity award the right way to acknowledge the work of the persons for the contribution of the unity and integrity of the country? Discuss
References
Make Notes