Tag:GS 3 || Economy|| External Sector || Foreign Trade
Why in news
Recently, 7th RCEP ministerial meeting held at Bangkok, Thailand. Commerce and trade minister Piyush Goyal represented India.
About RCEP
Regional Comprehensive Economic Partnership is a proposed Free Trade Agreement between Ten ASEAN countries and 6 FTA Partners (China, Japan, South Korea, India, Australia, New Zealand).
ASEAN initiated this idea in 2012.
If it comes to existence It becomes the world's largest Trade Agreement.
It includes 45% of world population,33%of world's GDP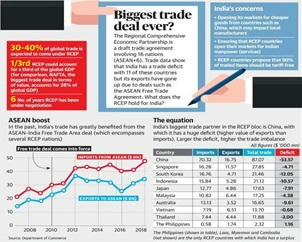 Objectives of RCEP
It aims to bring stable and Predictable market in the region.
Creating an "Integrated Market" to make goods and services of a country available easily across the region.
Lowering trade barriers and securing easy market access for goods and services.
It aims to cover issues related to goods, services, Investments, Economic and Technical Cooperation, Competition and Intellectual Property Rights.
India's Concerns
RCEP opens door for China's cheap goods which may affects the local manufacturers.
India is the only country that doesn't have an FTA with China, India is already in trade deficit with China. RCEP may further widen the Trade Deficit as China wants zero tariff for over 90% of tariff lines.
India is in trade deficit with 11 of the 15 RCEP countries.
Cost of manufacturing steel in India is higher by at least $80 per tonne , which makes finished steel goods less competitive compared to Chinese goods.
Dairy products: Australia and New Zealand are major producers of Dairy products, and they export 80-90% of the production, they will invade Indian market.
NITI Ayog reported that by 2033 India's milk production increases to 330 million tonnes and demand to 292 million tonnes, which effectively makes us a Surplus. Allowing RCEP Bloc to enter India will have negative consequences on Farmers.
Rules of Origin (R.O.O): Minimum Value Addition is required by a country for an imported good for it to qualify as a good originated from there.
China may use this as loophole to dump it's products to India via other RCEP countries through low value addition.
Safeguards proposed by India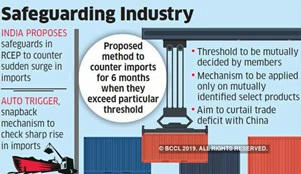 Auto Trigger: It is a mechanism to counter a sudden surge in imports for a period of six months when imports from an RCEP partner exceed a particular threshold. Threshold is decided mutually by concerned countries.
Snapback: The snapback provision would allow India to revert to the original higher tariffs to counter a sudden surge in imports.
Additional References: About ASEAN https://asean.org/
Sources: Economic Times, The Hindu Business Line, RSTV (India's World).
Make Notes