Tag:GS3||Economy||Infrastructure|| Power & Energy
Why in news?
India has been expanding it's energy production
Today India has Installed capacity of 358 GW which Four times more than 1997-98 i.e India has doubled it's capacity each of the past two decades.
Scenario of Electricity Generation In India
India's power sector is one of the most diversified in the world.
Sources range from conventional sources such as coal, lignite, natural gas, oil, hydro and nuclear power to viable non-conventional sources such as wind, solar, and agricultural and domestic waste.
India is the third largest electricity producer in the world and also third largest consumer
Coal Thermal power plants contributes most of the India's electricity Generation. Coal-based power generation capacity in India, which currently stands at 191.09 (As of May 2019) GW is expected to reach 330-441 GW by 2040
In recent days renewable energy sources like Solar and wind power are major growth drivers.
India aims to have a renewable energy capacity of 175 GW by 2022 and 500 GW by 2030.
Private sector investments in this field are increasing as the demand is also increasing rapidly
Between April 2000 and March 2019, the industry attracted US$ 14.32 billion in Foreign Direct Investment (FDI), accounting for 3.41 per cent of total FDI inflows in India.
GovernmentInitiatives
A draft amendment to Electricity Act, 2003 has been introduced. It mentions separation of content & carriage, direct benefit transfer of subsidy, 24*7 Power supply is an obligation, penalization on violation of PPA, setting up Smart Meter and Prepaid Meters along with regulations.
Ujwal Discoms Assurance Yojana (UDAY) was launched by the Government of India to encourage operational and financial turnaround of State-owned Power Distribution Companies (DISCOMS), with an aim to reduce Aggregate Technical & Commercial (AT&C) losses to 15 per cent by FY19.
the Ministry of New and Renewable Energy set solar power tariff caps at Rs 2.50 (US$ 0.04) and Rs 2.68 (US$ 0.04) unit for developers using domestic and imported solar cells and modules, respectively.
Government approved the National Policy on Biofuels,2018. It aimed at the better health, environmental, employment generation and reducing imports.
Accomplishments
India's rank jumped to 24 in 2018 from 137 in 2014 on World Bank's Ease of doing business – "Getting Electricity" ranking.
Energy deficit reduced to 0.7 per cent in FY18 from 4.2 per cent in FY14.
As of April 28, 2018, 100 per cent village electrification achieved under Deen Dayal Upadhyaya Gram Jyoti Yojana (DDUGJY).
Way forward
Government's aim to achieve 175 GW capacity in renewable energy by 2022 has many challenges such as cost of installation. To overcome this Government started "rent a roof" policy for supporting it's targets of generating 40 gigawatts (GW) of power through solar rooftop projects by 2022, this should implemented properly by creating awareness among public.
Private investments should be encouraged in the energy sector.
Energy efficient appliances should be promoted like LED bulbs, India could become the world's first country to use LEDs for all lighting needs by 2019, thereby saving Rs 40,000 crore on an annual basis.
Additional Info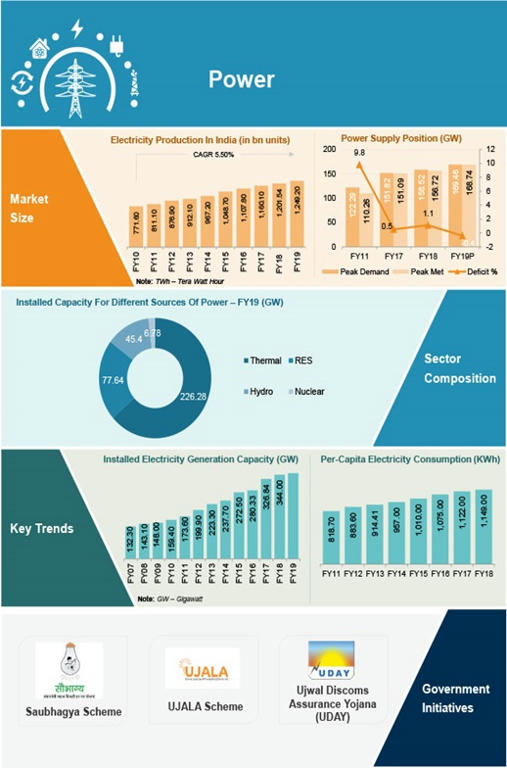 Make Notes