Tag:GS3||Economy || Agriculture || Agricultural Marketing
Why In News?
The State Advisory Price (SAP) for sugarcane payable to farmers is due from the State government for the past three years, said R. Subhas, another farmer. They had been raising the issue of delay in releasing the dues for the last one year but to no avail.
While salaries for mill employees were being disbursed promptly, farmers were not getting their dues.
Current challenges:
Decreasing in global sugar demand:

Demand and supply mismatch is the root cause of such huge arrears. The emergence of alternative sweeteners replacing sugar and increasing health consciousness has resulted in decreasing global sugar demand. Global consumption is still rising, though the pace of demand growth has slowed to an average of 1.4% in recent seasons, down from 1.7% over the past decade. While demand growth is decelerating, production has continued to rise due to superior seeds, better productivity of sugarcane per acre and sharply rising sugar recovery over the past decade.

Problem of pending payments:

It is particularly acute in UP, which accounts for 64% of the total outstanding arrears. In August 2018, total dues to sugarcane farmers in UP were Rs 11,163 crore. Data indicates a surge in sugarcane production in UP, from 149.4 million tons in 2012-13 to 182.1 million tons in 2017-18. During the same time period, the acreage under sugarcane production declined from 2.42 million hectares to 2.30 million hectares. The average sugar recovery rate increased from 9.18% to 10.86% in UP during the same period. As a result, sugar production increased, but consumption was stagnant, straining the ability to pay.

Different approaches of fixing sugarcane prices:

Based on the Rangarajan committee (2012) report, Commission for Agricultural Costs and Prices (CACP) recommended a hybrid approach of fixing sugarcane prices, which involved fair and remunerative price (FRP) or floor price and revenue sharing formula (RSF). Under this approach farmers' revenue from sugarcane would be higher if the price of sugar and by-products is high. Among the major producers of sugarcane, Maharashtra and Karnataka have accepted the revenue sharing formula. However, UP continues to follow the old SAP model. Large difference between SAP and price determined by RSF is considered the main reason for the acute arrears problem in UP.

Biased sugar quota allocation by the Centre:

Uttar Pradesh has been treated unfairly in monthly sugar quota allocation by the Centre. Despite being the largest producer of sugar (36.1%) and having the highest share in arrears (64%), UP has been given only a 32% share in allotted June-August quota. Maharashtra with lower sugar production (34%) and significantly lower share in arrears (5%), has been given a 37.7% share in the allotted quota
 Legal Mandates:
15 per cent interest: sugar mills to pay 15 per cent interest on the delayed FRP payment to the sugarcane farmers. The commissioner asked mills to pay interest within three months. In case of non-payment of dues, mills will face the seizure action.
The Sugarcane Control Order of 1966 mandates payment of the FRP to the growers within 14 days of delivery of cane and 15 per cent interest on it and if mill fails to adhere to the timeline.
According to the Sugar Commissioner Office, Revenue Recovery Certificate (RRC) notices have been issued to the 73 mills that have not paid FRP to farmers. FRP dues worth ₹1,436 crores will be recovered by seizing properties of these mills.
SC Ruling: The Supreme Court on Monday sought a response from the Uttar Pradesh government and the state cane commissioner on a plea by a farmers' body seeking sugarcane dues of around Rs 8,000 crore including interest for 2011-15.
Causes:
Fixation of FRP: It is another bone of contention between the Centre and sugar mills. The Centre decides FRP annually and the states can hike it by issuing a state advisory price or SAP. But mills want the price of sugarcane to be linked to the price of sugar.
 Government efforts:
The Centre recently announced Rs 6,000 crore export subsidy to sugar mills to help clear sugarcane dues across the country. The payment, the Centre, said would be made directly to the farmers.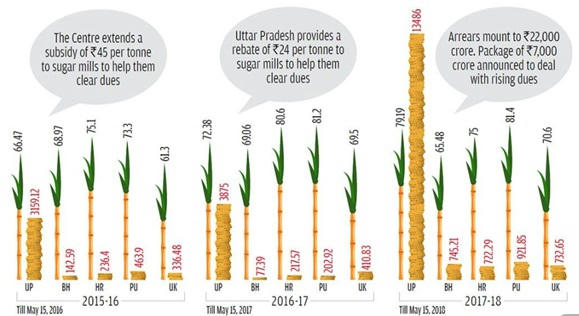 Way forward:
We have to diversify crops and ensure that sugarcane production falls. This requires long-term investment, and the government will have to encourage farmers to cultivate crops like pulses and oilseeds.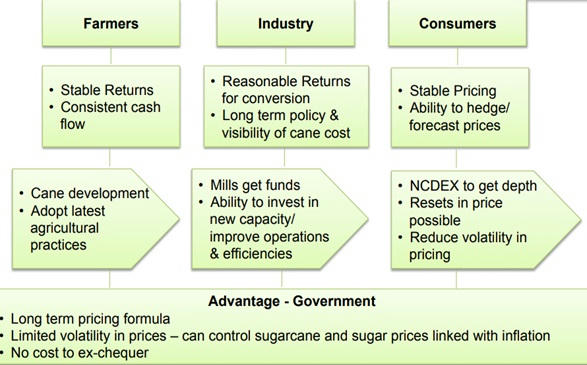 RSF needs to be aligned with FRP :

It is recommended that if price determined on a revenue-sharing formula is less than FRP, the difference be financed by the Cess Fund under SDF.
However, an arrangement under RSF needs to be aligned with FRP to protect the farmers in the event of any downward movement in prices of sugarcane. The FRP would serve as the floor price which the farmers would receive even when sugar prices fall to a level which leads to prices lower than FRP and in-line with the recent Sugarcane Acts of Karnataka & Maharashtra.

Mechanization of sugarcane farming: the cost of conventional planting was ₹53,675 an acre, while that of mechanized cultivation with surface irrigation would be ₹46,600 an acre. They said it would further reduce to ₹38,850 an acre with mechanized cultivation and drip irrigation.
References:
https://www.thehindu.com/news/national/karnataka/mechanisation-of-sugarcane-farming-only-way-forward-say-experts/article24069571.ece
https://www.downtoearth.org.in/news/agriculture/sugarcane-farmers-caught-in-a-maze-of-brotherhood-of-brokers-64590
Make Notes