Tag:GS2 || Governance and Social Justice || Human development || Education
Why in news?
NITI Aayog releases the first edition of School Education Quality Index (SEQI).

About the School Education Quality Index (SEQI):
Developed by NITI Aayog to evaluate the performance of States and Union Territories (UTs) in the school education sector.
Aim: To bring an 'outcomes' focus to education policy by providing States and UTs with a platform to identify their strengths and weaknesses and undertake requisite course corrections or policy interventions.
The index is developed through a collaborative process, including key stakeholders such as Ministry of Human Resource and Development (MHRD), the World Bank and sector experts.
It consists of 30 critical indicators that assess the delivery of quality education.
These indicators are categorized as below:
Category 1: Outcomes;
Domain 1: Learning outcomes
Domain 2: Access outcomes
Domain 3: Infrastructure and facilities for outcomes
Domain 4: Equity outcomes
Category 2: Governance processes aiding outcomes.
Performance of various states:
Kerala has emerged on top among 20 large states in terms of quality of school education, followed by Rajasthan and Karnataka, while the most-populous Uttar Pradesh was ranked at the bottom position during 2016-17.
Among 20 large states in the country 18 have improved their overall performance between 2015-2016 and 2016-2017, which is otherwise referred to as the incremental performance in the report.
The highest incremental performance has been recorded in Kerala. As against 77.6% score in 2015-2016, the state has recorded 82.2% in 2016-2017.
The overall performance has declined in Karnataka and Uttarakhand.
All seven union territories have shown an improvement in their overall performance scores.
The performance and ranks have decreased in Mizoram, Sikkim and Arunachal Pradesh.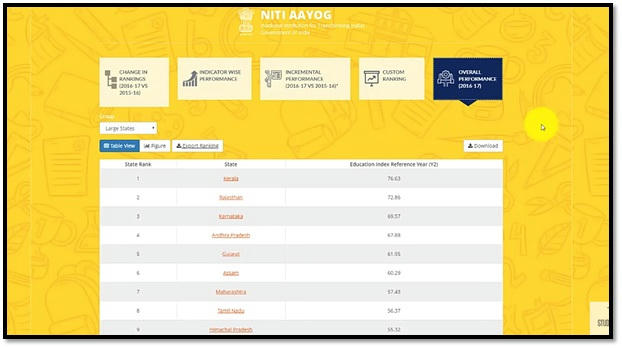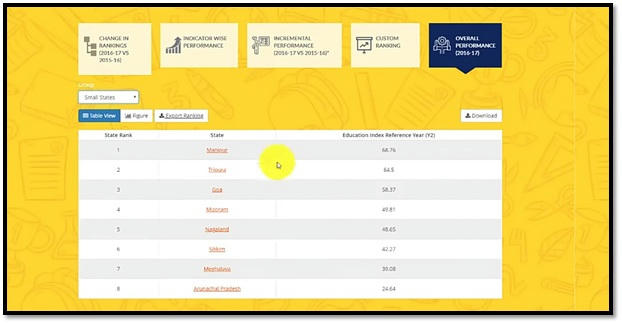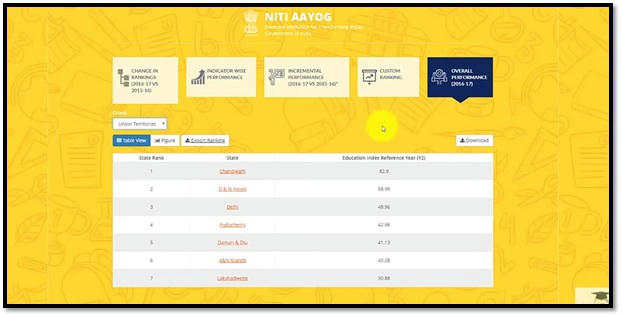 Make Notes