Tag: GS3||Economy||Economic Reforms||Disinvestment
Why in news?
Cabinet approves new disinvestment process to speed up stake sale in PSUs
DIPAM and NITI Aayog will now jointly identify PSUs for strategic disinvestment.
The change comes within a week of a group of secretaries agreeing for sale of government's entire 29 percent stake in Bharat Petroleum Corp Ltd and its 63.75 percent stake in Shipping Corporation of India (SCI), 30 percent in Concor, 100 percent NEEPCO and 75 percent in THDC.
Differences between Disinvestment, Strategic investment, and Privatization:
Strategic investment:

Strategic disinvestment would imply the sale of a substantial portion of the Government shareholding of a central public sector enterprise (CPSE) of up to 50%, or such higher percentage as the competent authority may determine, along with transfer of management control.
Various associated efforts like addressing issues such as capital restructuring, dividend, bonus shares, will be made as part of this policy.
Strategic disinvestment fetches better price.

Disinvestment: The current divestment policy, "the government has to retain majority shareholding, i.e., at least 51% and management control of the PSUs". The policy thereby limits the scope to create divestments that would allow easy exit for the government from non-strategic sectors.
Privatization: The transfer of ownership, property or business from the government to the private sector is termed privatization. The government ceases to be the owner of the entity or business.
The present method for strategic sale:
Presently PSUs for strategic sales are identified by Niti Aayog.
Respective ministries used to play an important role in major stake sales in PSUs. It led to huge bureaucratic sale.
Currently, the DIPAM executes strategic deals based on the list of PSUs identified by the NITI Aayog.
New Method:
In the new policy the Department of Investment and Public Asset Management (Dipam), Niti Aayog aim to cut government stake in select CPSEs to below 51%
Department of Investment and Public Asset Management (Dipam) will issue inter-ministerial discussions and will chalk out methods and strategies of reducing the government's 51% stake in the context of how much stake the other government entity in that PSU holds and the government can reduce its own direct stakes by that quantum.
These firms will then be out of oversight agencies like the Central Vigilance Commission and Comptroller and Auditor General of India.
There are sensitive issues such as reservation policy in PSUs that need to be reworked as once the government cedes direct control, such policies may be diluted.
DIPAM secretary would now co-chair the inter-minister group on disinvestment, along with the secretary of administrative ministries
The strategic sale may involve two-stage bidding

Beginning with an expression of interest (EoI) or a preliminary intent showing bid,
And a final financial bid. Pre-bid meetings with likely bidders and roadshows to attract potential investors will form part of the process to provide clarity on every aspect of the stake sale.

The idea is to complete the stake sale within a timeframe, say 4-5 months.
 Why This Change?
The government has set a target of mobilizing Rs 1.05 lakh crore from disinvestment proceeds.
It has become more critical after it doled out Rs 1.45 lakh crore stimuli by way of a cut in corporate tax.
Disinvestment proceeds will be critical for the government to stick to its target of keeping fiscal deficit at 3.3 percent of the GDP in the current fiscal year ending March 31, 2020.
Disinvestment receipts so far this year have been about Rs 13,000 crore, 13% of the annual target.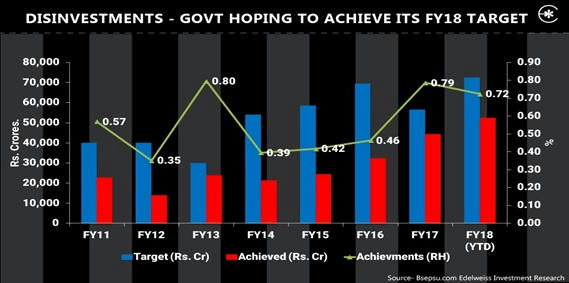 Way Forward:
Strategic disinvestment of select CPSEs would remain a priority and that the government would offer more CPSEs for strategic participation by the private sector.
Conclusion:
The government is at present on the look-out to tap newer sources of revenue as it tries to address the country's developmental needs. It has also had to sharply cut taxes to spur investments and push up growth which has slipped to a six-year low.
References:
Make Notes