Tag:GS-3|| Economy|| Infrastructure|| Transportation
Why in News?
Recently Home Ministery announced that Mizoram's Capital Aizawl will be connected through a broad gauge railway line by 2021.
Details of the project
Home Minister Amit Shah proposed that a 51-km track to Sairang will be the railhead for the capital city Aziwal, would be completed by 2021.
The announcement was made during the inauguration of the handloom and handicraft exhibition organized by the North East Council.
The current government (NDA) at the Centre had allocated more resources(Rs 42, 972)to Mizoram as compared to that by the Previous government(UPA -Rs 19,974).
Rail infrastructure in India's North East will get a massive and unprecedented boost over the next three years with the Railway Ministry planning to execute 491 projects costing a whopping Rs 6.48 lakh crore across the region, said Union Railway Minister Piyush Goyal.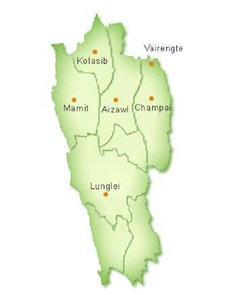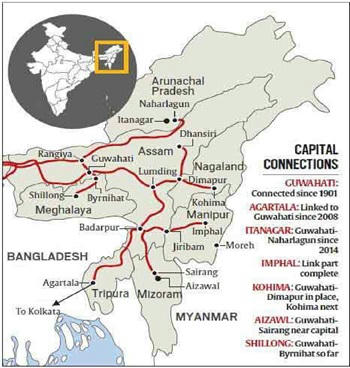 Indian Railways(IR) –A behemoth
In the year ending March 2018, IR carried 26 billion passengers and transported 1.16 billion tonnes of freight.
The world's eighth-largest employer, it had 308 million employees as of March 2017.
Mizoram –the final frontier of IR
Indian Railway has already converted the current 84 km rail line from Katakhal (Assam) to Bairabi,2 km inside Mizoram.
Passenger services started on this line on 27 May 2016.
Its further 38 km Bairabi-Sairangline extension from Bairabi to Sairang (20 km north of Aizawl) in Mizoram is under construction, with a target completion date of2021.
 Why is Railway so crucial to the NE region?
Food supply during rainy months.
Spurring Economic development.
Easing public transport for people.
Owing to long international borders, northeast region has huge requirement for providing railway networks from strategic considerations of defense.
Capital links –forging bonds of steel
Capitals of Assam, Arunachal Pradesh and Tripura are connected by rail.
The capitals of Mizoram, Meghalaya, Manipur, Sikkim, and Nagaland are not yet connected.
Rail Link To Tawang

The proposed rail link to Tawang in Arunachal Pradesh is the most ambitious.
The proposed rail will cover a distance of 166 kilometers.
The rail line will pass through elevations of over 10,000 feet.

Rail Link to Gangtok

Another major link is the one to Sikkim's capital Gangtok, which is under construction now.

Rail link Manipur

About 65 percent of the work on linking Manipur capital Imphal by rail to Assam has been completed. The entire project is expected to be completed by
After that, the line to Imphal will be extended to Moreh on the India-Myanmar border, from where it will then be extended to Myanmar to form part of the ambitious Trans-Asian Railway line.

Rail line to Nagaland

Only 25 percent of the work on laying the 5 km line from Dimapur (Nagaland's only railhead at present) to Zubzanear state capital Kohimahas been completed.
Goyal has asked NFR authorities to sit with the Nagaland government to accelerate the process of land acquisition that is holding up progress on this rail link.
Challenges
There are land acquisition issues –Nagaland, Meghalaya.
Extremely challenging terrain –Hills, forests, rivers.
Load-bearing capacity of soil is less.
Working season for only 5 months.
Landslide-prone areas.
The per-kilometer expenditure of laying single-line tracks in the Northeastern region is Rs 15 crore, while it is Rs 6 to 7 crore in the plains.
Way forward
The government (Centre as well as State) needs to be totally committed and work in collaboration to ensure the development of Mizoram in particular and northeast region in general and to find solutions to all kinds of challenges that the strategic area is facing.
Infrastructure development in India's North East will definitely get a massive and unprecedented boost over the next few years and would bring huge opportunities for the people of the region.
Authorities need to call for the development with protection while planning and implementing the proposed projects.
Mains model question
What are the main challenges currently faced by the government to connect the Northeast region with mainland India? How these challenges can be overcome to make northeast a well-developed region of India?
References
Make Notes