Tag:GS3||Economy ||Infrastructure ||Communication
Why in news?
In order to revive loss-making telecom PSUs BSNL and MTNL, the government today decided to merge the two ailing firms as part of a revival package.
What is a revival plan?
As part of the revival package, MTNL will be merged with BSNL. Pending this, MTNL will act as a subsidiary of BSNL.
MTNL is listed but has its net worth already eroded. BSNL is unlisted.
 Revival plan of government:
The ₹56,000 crore merger and revival plan for Bharat Sanchar Nigam Ltd (BSNL) and Mahanagar Telecom Nigam Ltd (MTNL) were approved by the Union Cabinet .MTNL operates in Delhi and Mumbai, and BSNL in the rest of India.
Allotment of the 4G spectrum: The turnaround plan would include the allotment of spectrum for fourth-generation or 4G services at 2016 prices to the two companies with the costs borne by the government.
Issue of sovereign bonds: The issue of sovereign bonds worth ₹15,000 crores to be serviced by the two companies. In addition, assets worth ₹38,000 crores will be monetized over the next four years
Voluntary Retirement Scheme (VRS):

A voluntary retirement scheme (VRS) will be introduced to cut employee costs.
The ex-gratia component of VRS will require ₹17,169 crores in addition, the Government of India will be meeting the cost towards pension, gratuity, and commutation.
For an example of the VRS package, any employee above the age of 53 and a half, who opts for the VRS, will be given 125% remuneration of the salary, pension, and gratuity till the age of 60.
 How the telecom sector helps the economy?
Connecting strategic establishments:BSNL plays an important role in connecting strategic establishments across the country. This function cannot be given to any private operator
National Security: It has national security implications given its role in serving the armed forces.
Natural Disasters: It helps in responding to natural disasters.
What are the challenges?

Better policy: BSNL does not have a well-thought policy. The performance management system in BSNL is quite superficial. The promotion happens in a time-bound manner and there is no recognition of merit in the system.
There is a lack of professional leadership in the organization.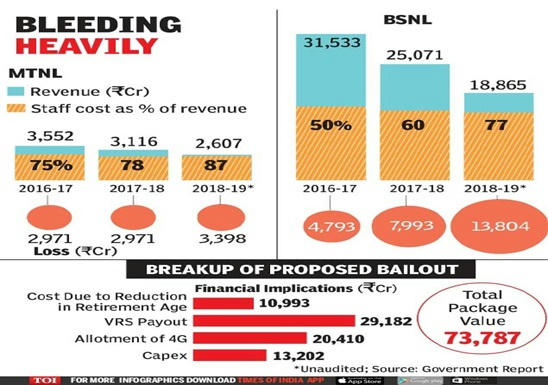 The larger challenges are a failure in building partnerships and marketing orientation.

Way forward:
The employees of the telecom companies should also cooperate and not come in the way of this progressive move.
Those who are not aligned with the requirements of a new BSNL should take voluntary retirement.
It is high time BSNL is allowed to breathe and unleash its capabilities as India moves ahead on the information highway.
 Conclusion:
A lack of political will and weak management has throttled the telecom companies' progress over the years. There should not be any further delays in implementing these proposals.
References:
https://www.thehindubusinessline.com/opinion/quick-take/right-move-to-revive-bsnl-mtnl/article29784424.ece
https://economictimes.indiatimes.com/news/economy/policy/bsnl-mtnl-to-be-merged-cabinet-approves-four-way-revival-plan-for-the-two/articleshow/71721833.cms?from=mdr
Make Notes