Tag:GS2 || International relations || India and its neighbours || Pakistan
Why in news?
India on Saturday exercised its right to reply to issue a rebuttal to Pakistan Prime Minister Imran Khan's speech at 74th Session of the United Nations General Assembly. In a strongly-worded reply, India said that Mr Khan's threat of unleashing nuclear devastation "qualifies as brinkmanship not statesmanship".
PM Modi At UNGA :
PM Modi began his 15-minute address by referring to schemes implemented by his government and projects that would his administration plans to undertake.
While PM Narendra Modi spoke about terrorism, he skipped mentioning Pakistan.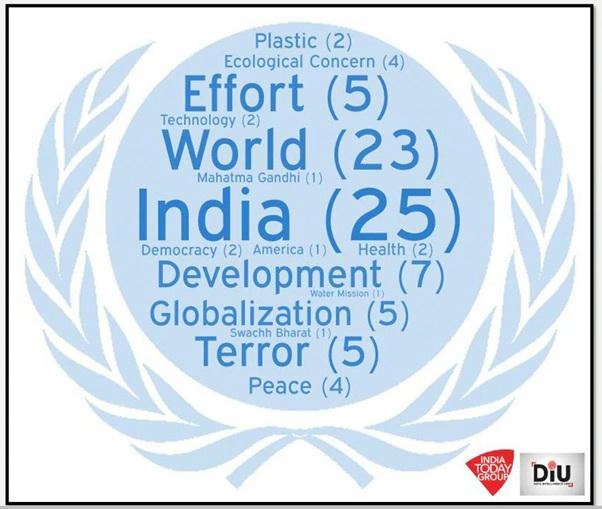 Imran Khan's Maiden UNGA Speech :
Imran Khan's maiden speech to the UN General Assembly went on for about 50 minutes, far exceeding the 15-20-minute time limit that leaders are expected to adhere to while making their national statements during the busiest time in the United Nations Headquarters.
Out of the 50-minutes that he spoke from the podium of the UN General Assembly hall, half of his speech was on India and Kashmir, drumming up a hysteria about a nuclear war.
Why Pakistan Kept Talking About India and kashmir?
Imran Khan used India as a diversion tactic to divert the attention of Pakistan public from ongoing economic crisis.
India's Reply To Imran :
India responded strongly exposing jingoism of Pakistan PM Imran Khan.
"Rarely has the General Assembly witnessed such misuse, rather abuse, of an opportunity to reflect. Words matter in diplomacy. Invocation of phrases such as 'pogrom', 'bloodbath', 'racial superiority', 'pick up the gun' and 'fight to the end' reflect a medieval mindset and not a 21st century vision," said Vidisha Maitra, First Secretary, Ministry of External Affairs.
Make Notes