Tag:GS 3|| Environment || Environment & Ecology || Pollution
Context
Recently, PM in his address at the United Nations Convention to Combat Desertification (UNCCD) summit has reiterated the need for phasing out the use of Single Use Plastic (SUP)
He already, in his Independence day speech has appealed to the People to make the Country free of Single Use Plastic (SUP).
India has set a target to Phase Out Single Use plastic by 2022
What is Single Use Plastic?
Simply put these can be referred as the plastics that are discarded after one time use. Single-use plastics, often also referred to as disposable plastics, are commonly used for plastic packaging and include items intended to be used only once before they are thrown away or recycled. E.g.: grocery bags, food packaging, bottles, straws, containers, cups and cutlery.
SUP menace has been mainly due to improper disposal mechanisms and low to no recycling.
Policies of the Government
In 2011 Government notified the Plastic Waste (management and handling) Rules,2011.
Pricing mechanisms were introduced to disincentives the use of polybags.
Recycling was introduced through local authorities.
Plastic Waste management rules,2016

Plastic below 50 micron was banned
Phasing out of Multi layered packaging .
Extended Producers Responsibility (EPR) for producers, importers and brand owners to ensure environmentally sound management of plastic products until the end of their lives.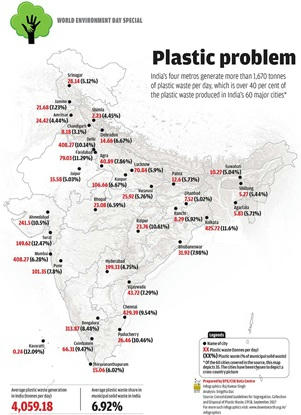 What needs to be done, to Phase out SUPs by 2022?
Baseline and Inventory: Assessment of the environmental impact of SUPs, Inventorisation studies in order to estimate how much fraction of single use plastics is there in our plastic waste, This helps to find a better alternative.
Clear definition of SUPs: There are different definition of the SUPs in different countries, Since SUPs are used extensively in our day to day life, example water bottles, straw etc. We need to prioritize them and put ban instead putting a blanket ban. For this a universal common definition has to be given to SUPs.
National Action Plan on phasing out SUPs: It is needed to boost Research and Development in innovating alternatives to SUPs.
Strengthen Waste management: Improper disposal is the foremost problem. Municipalities need to spread awareness to segregate the plastic waste. Waste to Energy plants should be installed.
Alternatives: Finding a proper and suitable alternative that is devoid of any environmental negative effect is most required and challenging task. This can be achieved by providing robust infrastructures, strengthening market, innovation. In the present context, jute and upcycled cloth bags, bamboo and wooden cutlery, leaf-based plates, glass and metal containers etc. are some of the immediate alternatives, these need to be promoted and govt should encourage people to use them.
Proper Implementation of the EPR: A comprehensive policy has to be created to implement Extended Producers Responsibility effectively.
Bringing Behavioral Changes in public: A massive campaign is necessary to make people aware of the negative impact of the SUPs. Encouraging people to shift to other alternatives from the plastic through Social engineering.
Way forward
A proper alternative and positive Behavioral changes in people will lead to phasing out of plastic without causing much effect. We have good example of replacing energy inefficient electric bulbs with CFLs, In the same way SUPs can also be replaced, Government's will and people's Cooperation is all that is needed.
Make Notes