Tag:GS2 || Economy || External Sector|| World Bank
Why in news?
World Bank's ease of doing business ranking released.
About Doing Business project:
It provides objective measures of business regulations and their enforcement across 190 economies and selected cities at the subnational and regional level.
Launched in 2002, looks at domestic small and medium-size companies and measures the regulations applying to them through their life cycle.
Indicators:
This year's study covers 12 indicator sets and 190 economies.
Ten of these areas—starting a business, dealing with construction permits, getting electricity, registering property, getting credit, protecting minority investors, paying taxes, trading across borders, enforcing contracts, and resolving insolvency—are included in the ease of doing business score and ease of doing business ranking.

Doing Business also measures regulation on employing workers and contracting with the government, which are not included in the ease of doing business score and ranking.
Performance of India:
India went up 14 rungs in the 2020 survey to score a 63, making it the one of world's top 10 most improved countries for the third consecutive time.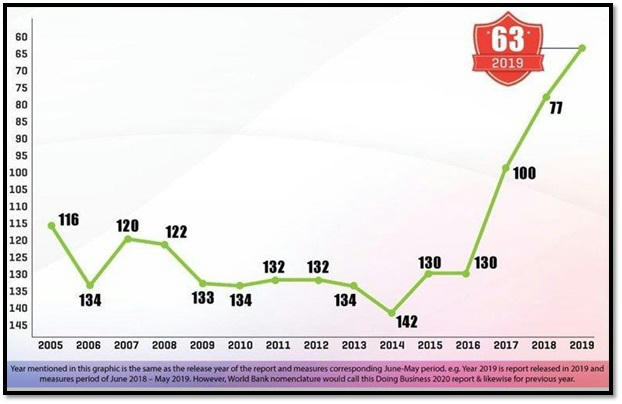 However, India failed to achieve government's target of being at 50th place. It was 77th last year.
This is the third year in a row that India has made it to the top 10 in Doing Business, which is a success which very few countries have done over the 20 years of the project.
Make Notes