Tag:GS-3|| Environment || Climate Change|| India & Climate Change
Why in news
The Government is planning to make a 1400-km Long Great 'Green Wall' to Tackle Land Desertification.
The green belt which will stretch from Porbandar to Panipat will help in restoring degraded land along with the Aravalli hill range across Gujarat, Rajasthan, Haryana, and Delhi.
Plan
To plant a 1400 km-long and 5 km wide green belt from Gujarat to Haryana.
To restore 26 million hectares of degraded land by 2030.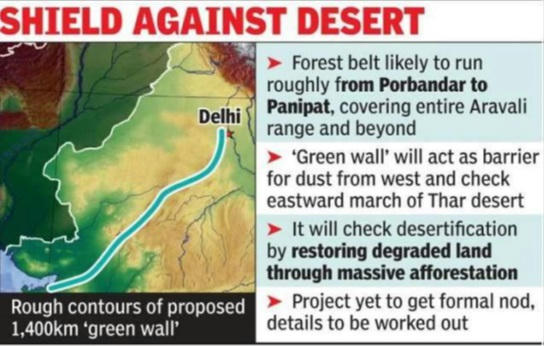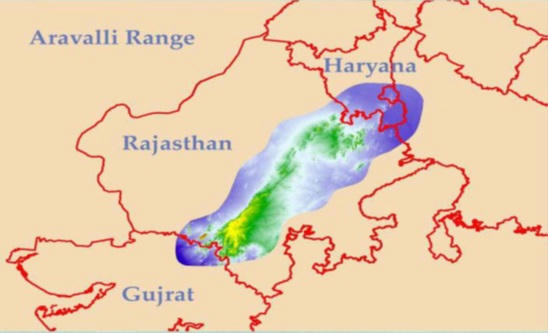 Importance of Aravalli's
It is a 690 km range -forming the eastern boundary of the Thar desert.
Aravalli has been identified as one of the main degraded zones to be taken up for afforestation.
Windblown dust or sand is deposited in cultivated land and buries the lands, thus reducing the agricultural production.
 UNCCD
India is a signatory to the United Nations Convention on Combating Desertification (UNCCD).
The country is committed to combat desertification and land degradation
India Intends to achieve land degradation neutral status by 2030.
MoEF&CC is the nodal Ministry for the implementation of the UNCCD.
The idea had been a part of the agenda of the recently held conference (COP14) of the UNCCD.
 What is Desertification?
As per UNCCD Desertification is defined as "land degradation in arid, semiarid and dry sub-humid areas resulting from various factors including climatic variations and human activities".
Desertification and Land degradation status of India
India is the seventh-largest country in the world with a 7 mha area.
India has 4 mha of degraded land which is 29.3 % of the country's total geographical area during 2011-13
Area under desertification (arid, semi-arid and dry sub-humid regions of the country) during 2011-13 is 82.64 mha; whereas, during 2003-05 it is 81.48 mha.
Thus there is a cumulative increase of 1.16 mha area under desertification.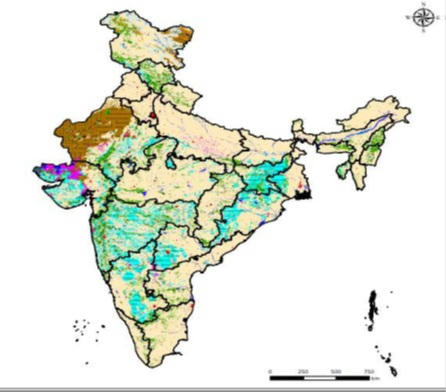 In Gujarat, Rajasthan, and Delhi, over 50% of the land area is degraded and prone to desertification.
Coupled with extreme weather events, degrading lands have affected millions of livelihoods as well as the biodiversity as a whole.
Excessive deforestation is said to be a significant driver of degradation in India.
India has revised its land restoration targets to an upward of 26 million hectares from the previously set target of 21 million hectares.
The Great African Green wall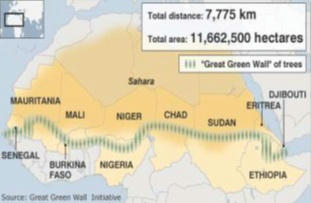 Back in2007, the African Union launched the Great Green Wall initiative across 20 countries to restore degraded landscapes in Africa.
The goal of the project is to plant a wall of trees, 7000 km long and 15 km wide, across the African continent, from Senegal to Djibouti.
Roughly 40 percent of Africa is now affected by desertification and according to the UN, two-thirds of Africa's arable land could be lost by 2025 if this trend continues.
 Challenges
To ensure

The planting of economically interesting species.
Planting of drought-tolerant species.
Integrated development of agricultural production systems
Other income-generating activities for farmers
Basic social infrastructures.

Once the clearances are accorded for this plan, the implementation will commence with degraded forest land.
More stretches will be coming in for restoration after taking farmers and other private landholders on board.
There's been a long history of one failure after another in projects that come in and try to plant trees.
Many reasons these projects fail –

Sometimes projects plant non-native species that can't survive in the dry climate
Local people don't support the project
Allow their grazing animals to eat the newly-planted trees.
Conclusion
Climate change and desertification are some of the greatest challenges in today's globalized world. India has been making every possible effort and has made several attempts to mitigate the effects of climate change and desertification.
The current proposed plan will help India to do something similar to combat climate change and desertification. If implemented, India will achieve its goal of restoring around 26 million hectares of degraded land by
Mains model question
What are the consequences of desertification? How are desertification and human well-being linked? Suggest some mitigation measures also.
Referennces
https://timesofindia.indiatimes.com/india/government-plans-1400km-long-great-green-wall-of-india/articleshow/71496260.cms
Make Notes