Tag:GS3|| Economy || Structure of the Indian Economy || National Income & it's measures
Why in news?
Organization of Economic Cooperation and Development ( OECD) reduced it's forecast for global growth to a decade low.
The global economy will see its weakest growth since the 2008-2009 financial crisis this year, slowing from 3.6% last year to 2.9% this year before a predicted 3.0% in 2020, the OECD said.
Major Economic Indicators
Easing: Interest rate cut by US central bank to increase the money supply. Federal Open Market Committee which look after Monitory policy of the US reduced 25bps in Interest rate.
Dissent: There is difference of opinion within central banks officials in lowering the interest rates. They don't have clarity on the consequences of these move due to uncertainty in global economy.
Trade War: US-China trade War has very significant impact on the global economy. Fednote said that there is 0.8% decline in the global GDP in the first half of the 2018.
Challenges
Trade Uncertainty: The trade War between USA and China lead to uncertainty in the global market. more than the tariffs, uncertainty over trade disputes is reducing the investment and purchasing.
Role of Central Banks: Central Banks are failing to control the situation
Instability in Oil prices: Geopolitical tensions in the middle East caused this problem which is another major challenge affecting the global growth.
Protectionism: Most of the Economically developed countries following the "Protectionism" policy which resulted in declining the world trade.
The economies of Europe and Japan, fueled by central banks' easy-money policies, overexerted themselves a couple of years ago and are now in a Slowdown.
Brexit is the another challenge in the European region.
Impact on India
Decrease in the consumption rate
Capital flow: Developed countries tariff uncertainties may lead to some capital flow to India. Which is good for some time.
Investment: Private investment may decrease due to decrease in the consumption rate i.e Aggregate demand. This is a Vicious cycle that pushes the economy further down.
Employment rate is also decreasing due to less investment.
Economic slowdown In India
The GDP growth rate of the economy has slipped to 5 percent in the first quarter of FY20, the lowest in over six years.
Sharp fall in Private Consumption in the June quarter to 3.1 percent compared to 7.2 percent in the March quarter has significantly contributed to the recent slowdown.
This fall in demand also resulted in the fall of employment and output rates.
GST, Gross NPAs, Liquidity crisis in NBFCs, New Motor Vehicle laws are also some reasons for slowdown.
This Slowdown is more of a Cyclical than the structural as some experts say. So government needs to take some measures immediately to arrest the further Slowdown.
Way Forward
Government need to increase it's Expenditure in the Agriculture and Infrastructure projects.
Fixing the NPAs Problem by evaluating the credit allocation system of PSUs.
NBFCs Liquidity crisis must be fixed as these will help in increasing investments.
Manufacturing Sector especially Auto Sector is going through a structural change. Give Incentives to auto sector employees to upskill on electric vehicles and incentives to invest and shift to electric vehicles.
GST process should made more user friendly and reforms should be made in tax slabs.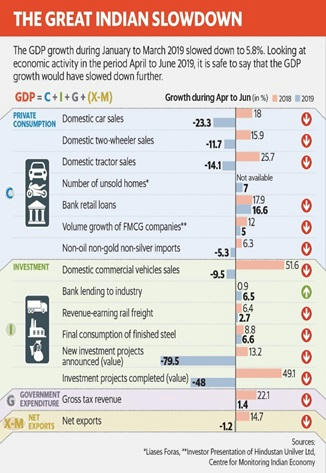 About OECD
The Organization for Economic Co-operation and Development (OECD) is an intergovernmental economic organization with 36 member countries, founded in 1961 to stimulate economic progress and world trade. It is a forum of countries describing themselves as committed to democracy and the market economy, providing a platform to compare policy experiences, seek answers to common problems, identify good practices and coordinate domestic and international policies of its members.
Head Quarter : Paris, France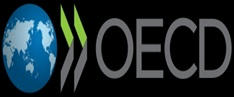 Make Notes