Tag:GS 3|| Environment || Climate Change || Tackling Climate Change
Why in News?
Recently US Agency for International Development (USAID) and Ministry of Environment, Forest and Climate Change officially launched Forest Plus 2.0
Forest Plus 2.0
FOREST-PLUS 2.0 (FOREST FOR WATER AND PROSPERITY): Launched in December 2018, this program will improve the management of targeted forest landscapes in three states (Bihar, Kerala, Telengana)  in India to enhance ecosystem services and increase economic opportunities, building on the success of Forest-PLUS 1.0 (2012–2017)
It is second set of pilots project which consists of Three landscapes
Gaya in Bihar
Thiruvananthapuram in Kerala
Medak in Telangana.
Under the joint program, USAID will provide technical assistance to MoEFCC to improve management of forested landscapes in the states of Bihar, Kerala, and Telangana.
The first set of pilot project was focused on capacity building to help India participate in Reducing Emissions from Deforestation and forest Degradation (REDD+). It included four pilot projects in Sikkim, Rampur, Shivamogga and Hoshangabad.
Targets- Forest 2.0
1,20,000 hectares of land under improved management
New, inclusive economic activity worth $12 million
Measurable benefits accrued to 800,000 households
Three incentive mechanisms demonstrated in managing landscapes for ecosystem services.
Points of Action
It designed three Points of Action to achieve the targets:
Developing tools for multiple challenges in Forest Management :

Innovative apps for automating Forest planning process
These tools results in enhanced water flow and quality of water in Forest
Tools that provides for the Resilience of Forest dependent communities.

Incentive based Instruments : This includes paying forest communities for their function in the forest management.
Unlocking economic opportunities for forest-dependent people by modelling and setting up conservation enterprises and mobilizing investment from the private sector.
Other Mechanisms for Forest Management
Some of the mechanisms mentioned in the Draft National Forest Policy, 2018 for better management of the forest ecosystem :
Economic valuation of Ecosystem Services: Providing monetary benefits to the communities for their role in forest management.
Forest Certification : It is a market-based non-regulatory conservation tool designed to promote sustainable management of forests and trees outside forests by an independent third party.
The Certification Standard for Sustainable Forest Management (SFM) developed by Network for Certification and Conservation of Forests (NCCF), an Indian non-profit, has got global recognition. It is India's first forest certification scheme.
National Forest Ecosystem Management Information System : Draft National Forest policy mentions the need of an information system it says " A national forest ecosystems management information system will be developed and made operational using the latest information and communication technology. Assessment of growing stock & carbon stock in Indian forests will be given more stress ".
Preventing Forest Fires : Adequate measures would be taken to safeguard ecosystems from forest fires, map the vulnerable areas and develop and strengthen early warning systems and methods to control fire, based on remote sensing technology and community participation .
Human- Wildlife Conflict : To mitigate this challenge Quick response, dedicated teams of well-equipped and trained personnel, mobility, strong interface with health and veterinary services, rescue centers will be established.
Climate Change : Forest Acts as  carbon sinks, which checks the climate change challenge significantly. Afforestation and Agroforestry will be promoted.
Way Forward
Policies: Government need to create comprehensive policies to strengthen the Forest departments, laws against Illegal forest occupation and Involving the Local communities in conservation and giving their rights.
Resources: Creating skilled human resources in the Forest Management. Training the local communities and creating awareness about the importance of the conservation.
Coordinating with the various agencies like state forest departments, Disaster management agencies and raising funds from various International Institutions
Use of Technology: Developing Early warning systems, Apps and other tools and using them effectively.
Forest is the ecosystem that significantly supports the human existence in planet Earth. In order to continue this we need to use it in a sustainable way and conserve it for our future generation.
REDD and REDD+
Deforestation and forest degradation account for approximately 17 percent of carbon emissions, more than the entire global transportation sector and second only to the energy sector.
Reducing Emissions from Deforestation and Forest Degradation (REDD) is a global program to create an incentive for the Developing countries to protect, manage and conserve their forest resources.
REDD+: It has larger goals other than checking deforestation and Forest Degradation.
It is a mechanism developed by Parties to the United Nations Framework Convention on Climate Change (UNFCCC). It creates a financial value for the carbon stored in forests by offering incentives for developing countries to reduce emissions from forested lands and invest in low-carbon paths to sustainable development.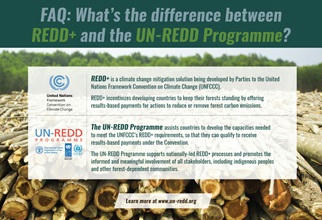 Make Notes