Tag:GS3|| Economy || Banking & Financial Sector || NPA
Why in news?
Rs 71,500 crore worth of bank frauds detected in FY19: RBI latest report
Indian banking system detected Rs 71,500 crore worth of frauds in the financial year 2018-19 which to put in scale is slightly more than the Rs 71,000 crore recapitalization package planned by the government to revive the health of its public-sector banks.
About the report:
The Reserve Bank of India (RBI), in its latest annual report, has indicated that the rate of growth of frauds maybe not substantial but the amount involved in frauds has gone up by a whopping 73.8 percent.
RBI data shows that in FY19, the banking sector reported 6,801 frauds involving a total Rs 71,542.93 crore as against 5,916 cases involving Rs 41,167.04 crore reported in 2017-18.
As compared to this, state-run banks reported 3,766 cases of frauds worth Rs 64,509.43 crore as against 2,885 cases involving Rs 38,260.8 crore.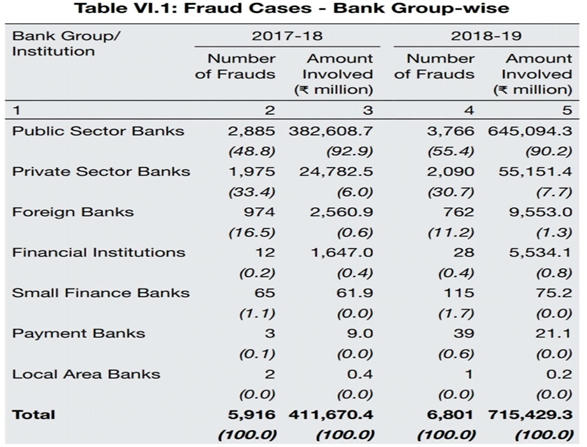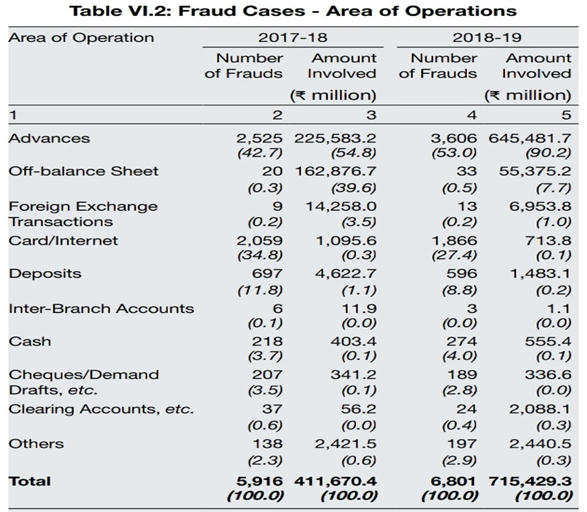 The challenge to financial regulation:
The response of RBI:

Two external directors questioned the apex bank as to how a series of scams that came to light since 2018 remained unnoticed.
The two directors cited the Punjab National Bank (PNB) fraud, the IL&FS scam, and the very recent Punjab & Maharashtra Co-operative (PMC) Bank
The external directors raising the issue come at a time when the RBI is facing a lot of flak over its inspection and oversight mechanism efficiency.
Case of PNB Bank:

Some officials took advantage of loopholes in the system to keep the RBI in dark regarding a substantial share of their exposures.
In the PNB episode, the bank's exposure to Nirav Modi escaped regulatory check as its SWIFT system (global financial messaging service) was not embedded into the bank's core banking system (CBS).
Many PNB officials had manipulated the SWIFT networkto issue unauthorized letters of undertaking (LoUs) to secure overseas financing.

IL&FS crisis: The role of auditors has also come into question after the fall of IL&FS a year ago. Despite the apex bank flagging the inter-group exposure in IL&FS Financial Services, the NBFC kept evergreening loans, maintained credit rating and continued taking loans.
PMC Bank: The PMC Bank scam came to light last month when it was discovered that the bank created over 21,000 fictitious accounts, some in the names of dead people, to hide bad loans extended to almost-bankrupt Housing Development and Infrastructure Limited (HDIL). According to its former MD Joy Thomas, the lender has an exposure of Rs 6,500 crore to HDIL.
Dual control:
Although there is dual control over the supervision of the bank in cooperative banks by state and RBI. Dual control also poses a limitation on the supervising of the board of directors or removing the board of directors.

But, PMC Bank used a "middle server" to manipulate data and convert the information in the bank's core banking system (CBS) to hide information. "The data engagement between the RBI and cooperative banks is much less compared with scheduled commercial banks.
 Large concerns:
RBI report: the fund flow from the financial sector to the commercial sector decreased by 88%. Its impact can be seen on small traders, farming sector, unorganized sector lower strata.
The stress faced by Yes Bank also figured in the course of the discussions.
The central bank's report says that the macroeconomic environment in the country remains unsettled and financial markets are experiencing considerable flux as the financial year 2019-20 progresses.
Steps taken by RBI:
The RBI, in the report, said that they also subjected 57 banks through IT examination to check their cybersecurity preparedness and compliances.
Targeted thematic examinations were also carried out, focusing on applications, infrastructure, and systems used by the bank.
Central Fraud Registry (CFR), based on Fraud Monitoring Returns filed by banks and select financial institutions, has been set up by RBI as a searchable online central database for use by banks.
 Measures being taken to Control and Prevent Frauds in Banks:
Government has issued "Framework for timely detection, reporting, investigation, etc. relating to large value bank frauds" to Public Sector Banks (PSBs), which provides that

All accounts exceeding Rs. 50 crore, if classified as Non-Performing Assets be examined by banks from the angle of possible fraud, and a report placed before the bank's Committee for Review of NPAs on the findings of this investigation.
Examination be initiated for wilful default immediately upon reporting fraud to RBI; and
A report on the borrower is sought from the Central Economic Intelligence Bureau in case an account turns NPA.
Fugitive Economic Offenders Act, 2018 has been enacted to deter economic offenders from evading the process of Indian law by remaining outside the jurisdiction of Indian courts. It provides for attachment of property of a fugitive economic offender, confiscation of such offender's property and disentitlement of the offender from defending any civil claim.
For enforcement of auditing standards and ensuring the quality of audits Government has initiated the establishment of the National Financial Reporting Authority as an independent regulator.
Way forward:
Recently the government had formed a panel to suggest legislative changes to ensure better governance at co-operative banks and provide more power to the regulator.
The RBI central board also formed a strategy sub-committee of the Central Board of Directors.
Legislative Changes: The government should also take certain initiatives that will complement RBI and by providing more power to RBI over commercial and cooperative banks.
Greater Regulatory Role Over Cooperative Banks: The biggest hurdle for cooperative bank management is dual control. So, there is a need for a proper legislature with regard to cooperative banks so that all power lies with the RBI. Then RBI will be able to implement better decisions with regards to Cooperative Banks.
Efficient Players: With regarding the problems of financial inclusions, there is also a need for efficient players like cooperative banks, small finance banks, and payments banks, Currently, the government is focusing on creating international players by merging public sector banks but there is also a need for efficient players for providing financial services to farmers and lower strata of society.
 Conclusion:
Both the RBI and the government have to play a supervisory role to prevent fraud in the future.
 References:
Make Notes