Tag:GS-3|| Economy|| Agriculture|| Agricultural Production & Productivity
Why in News?
The Department of Food and Public Distribution has requested the Ministry of External Affairs to explore the possibility of export of wheat and rice from the surplus stock available with FCI.
With India's Food Corporation overflowing granaries, the government is seeking to liquidate its grain stocks to avoid damage and minimize the country's carrying costs beyond the requirement.
 Increase in the production
The procurement of wheat and rice in the central pool has been increasing over the years.
This has lead to the accumulation of surplus stock of wheat and rice with FCI.
As a result, stocks of food grain in the central pool continue to remain much in excess of stocking norms.
Why does the FCI have so much stock?
The godowns of the Food Corporation of India (FCI) and affiliated State agencies are now packed to capacity.
Years of 'open-ended' procurement of rice and wheat from farmers in the key growing states of Punjab, Haryana, Madhya Pradesh, Chhattisgarh, Odisha, Andhra Pradesh and Telangana has ensured that the FCI has huge grain stocks which far exceed buffer-stock norms.
A significant gap between the quantum of procurement of grains and the volume of allocation to States under the National Food Security Act (NFSA).
This has resulted in rising food subsidy expenses, as buffer carrying costs have been rising steadily.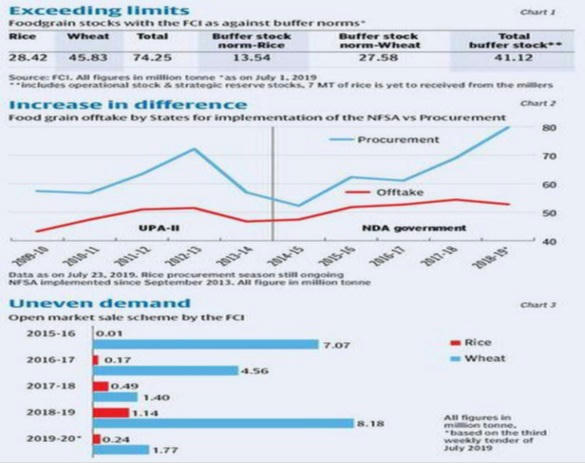 Economic cost of Commodities
At present, the economic cost of wheat is ₹2505.67 per quintal rice is ₹3601.91 per quintal.
The FCI supplies rice and wheat to States under the NFSA at₹3 and₹2 per kg respectively.
What options does government have to manage the surplus?
The government has been considering several options to liquidate excess stocks held with FCI.
Allocation of additional food grains per beneficiary under the NFSA.

Currently, around 80 crore beneficiaries under the NFSA get 5 kg of grains (rice or wheat) each per month.
The distribution of additional food grains would be temporary, till excess stocks could be liquidated.

Open Market Sales Scheme (OMSS) –Results have not been encouraging so far.

During 2019-20, FCI offered 92 lakh tonnes of wheat but the actual quantity sold till the third tender of September was 5.13 lakh tonnes only.
Similarly, FCI offered a quantity of 77 lakh tons of rice for sale through e-auctions but barely 4.12 lakh tonnes sold till the third tender in September.
Reason for poor sales-

The market prices of these two commodities are much lower than the economic cost of FCI.
For instance, the economic cost of wheat and rice is budgeted at Rs 2505.67 and Rs 3601.91 per quintal respectively.
Whereas, the market rate of wheat and rice are around Rs 2,100 and Rs 3000 per quintal respectively.

The aid option

The Department of Food and Public Distribution has requested the Ministry of External Affairs to explore the possibility of export of wheat and rice from the surplus stock available with FCI, through the G2G (government-to-government) basis in the form of humanitarian aid to deserving countries.
Why can't FCI sell its surplus in international markets?
There are provisions in the WTO agreement on agriculture which impose certain restrictions on export from public stockholding.(FCI)
Food commodities donated in the past
In the past, India has donated food grain to some countries.
In 2011-12, 2013-14 and 2017-18, India donated more than 3.5 lakh metric tonne quantity of wheat to Afghanistan.
In 2012-13, a quantity of 2,447 metric tonnes of rice was given to Yemen as humanitarian aid.
Similarly, a small quantity of rice was also donated to each one of five countries —Myanmar, Sri Lanka, Zimbabwe, Lesotho, and Namibia —between 2014-15 and 2017-18.
But the same has not happened in the last two years.
 Additional Information about FCI
Food Corporation of India (FCI) is a Public Sector Undertaking, under the Department of Food & Public Distribution, Ministry of Consumer Affairs, Food and Public Distribution.
FCI is a statutory body set up in 1965 under the Food Corporations Act 1964. It was established against the backdrop of a major shortage of grains, especially wheat.
Simultaneously, the Commission for Agricultural Costs and Prices (CACP) was created in 1965 to recommend remunerative prices to farmers.
It has the primary duty to undertake purchase, store, and move/transport, distribute and sell food grains and other foodstuffs.
Mains model question
Despite unprecedented quantities of food grains, India is unable to overcome hunger and malnourishment. Along with this, government warehouses are overflowing with stocks of rotting rice and wheat. Discuss
 References
Make Notes