Tag:GS2 || International relations || India and rest of the world || Europe
Why in news?
Prime Minister Narendra Modi met the President of Cyprus Nicos Anastasiades after his UN General Assembly speech, during which the former "reiterated India's consistent support for the independence, sovereignty, territorial integrity and unity of the Republic of Cyprus".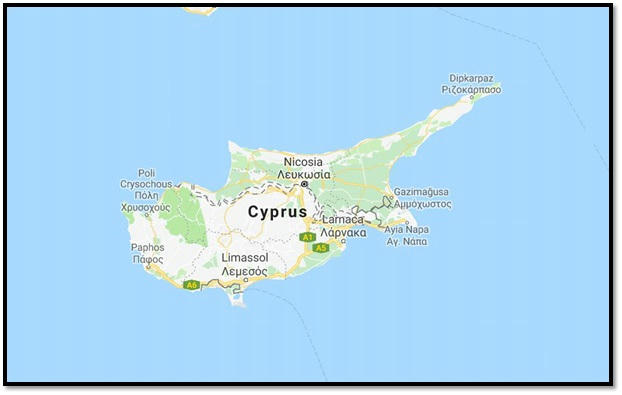 Brief history of Cyprus through timeline :
709BC: Cyprus was conquered and unified by the Neo-Assyrian Empire under Sargon II
380BC: Persia reconquered Cyprus
45AD: Christianity introduced to Cyprus
1571: First Ottoman settlers arrived
1878: Ottoman Empire turned over control of Cyprus to the British.
The British formally annexed Cyprus in 1914.
In the 1950s, Greek Cypriots engaged in a guerrilla war against the British, calling for unification with Greece.
In 1960, British granted independence to the island, instituting a power-sharing arrangement between Greek and Turkish Cypriots.
In 1974, Greece's military junta government backed a coup against Cyprus's president, with Athens demanding a greater say in Cypriot affairs and pushing for union with the island.
In response to the coup, Turkey launched a military invasion, occupying the northern third.
Greek Cypriots were forced to flee from the north to the south, while Turkish Cypriots fled in the opposite direction.
In 1983, the northern part of the island was declared as the breakaway state of the Turkish Republic of Northern Cyprus but the only country to recognise it was Turkey.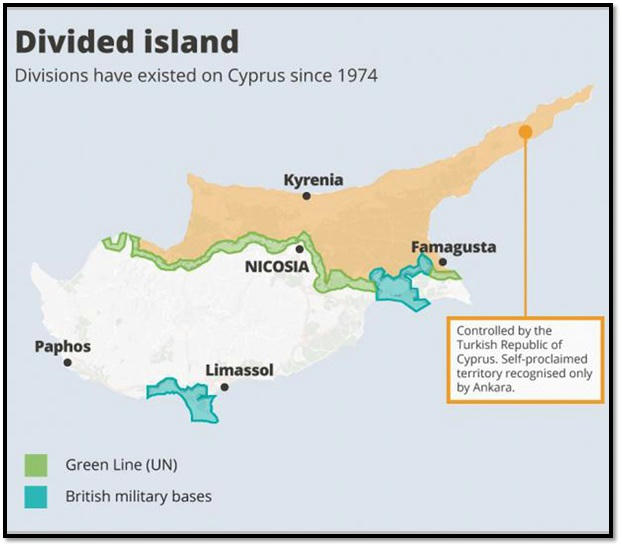 India's relation with Cyprus :
India supported Cyprus during its struggle for independence from British colonial rule.
Diplomatic relations between Cyprus and India were established on 10 February 1962, two years after the former gained independence.
The Indian military has participated in United Nations peacekeeping operations in Cyprus on numerous occasions.
Three Indian Generals have served as Commanders of the United Nations Peacekeeping Force in Cyprus (UNFICYP), since its creation in 1964.
India supported Greeks in Cyprus during the Turkish invasion of Cyprus in 1974, and lobbied for the international recognition of the Government of Nicosia as the sole legal representative of the entire nation.
India has consistently supported and voted for a peaceful resolution of the Cyprus dispute at the United Nations.
Cyprus supports the India–United States Civil Nuclear Agreement, and also supports India within the Nuclear Suppliers Group (NSG) and the International Atomic Energy Agency (IAEA).
Prime Minister Atal Bihari Vajpayee visited Cyprus in October 2002. During the visit, Cyprus declared its support for India's candidature as a permanent member on the UN Security Council.
The street in Nicosia on which the High Commission of India is located is named after Indira Gandhi. In India, an avenue in New Delhi is named after Archbishop Makarios III.
Make Notes