Tag:  GS 3 || Environment || Climate Change||  India & Climate Change
Why In News?
For preparing communities and people to meet the challenge arising out of climate, information specific to a state or even district is needed.
In order to meet this need, a PAN(Presence Across Nation) India climate vulnerability assessment map is being developed.
 Climate Vulnerability map of India
The map is being developed under a joint project of the Department of Science and Technology (DST) under the Union Ministry of Science and Technology and Swiss Agency for Development and Cooperation (SDC).
This research programme of DST is being implemented as part of the National Mission for Sustaining the Himalayan Ecosystem (NMSHE) and National Mission on Strategic Knowledge for Climate Change (NMSKCC).
Such climate vulnerability atlas has already been developed for 12 states in the Indian Himalayan Region, using a common framework.
 Why such move?
Climate risk is interplay of hazard, exposure and vulnerability. There is a rise in climate-sensitive livelihood of people.
While the occurrence of natural hazards such as landslides, droughts and floods is projected to go up, their impact depends on the level of exposure such as presence of people and infrastructure in areas.
Vulnerability is the propensity to be adversely affected and can be measured in terms of both biophysical as well as socio-economic factors.
Addressing vulnerability can help reduce risk to climate change. It also helps in identifying what makes a state or district vulnerable to climate change.
 Mapping strategy
The map for the Himalayan region, developed in consultation with states, has details up to the district level.
The National map will also do the same, as vulnerability within a state may differ from one region or district to another.
A common set of indicators will be used vulnerability profile and ranking of 650 districts all over the country.
Among the priority areas identified for research are glaciology, climate modeling, urban climate, extreme events and Himalayan ecosystem studies.
In all, climate change cells have been in 25 states in the country and centres of excellence are also being established in states for capacity building.
Sensitivity of agricultural production is captured by indicators like percentage area under irrigation; yield variability; and percentage area under horticulture.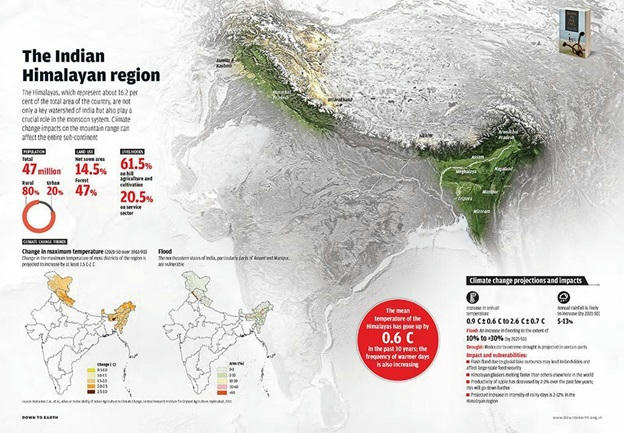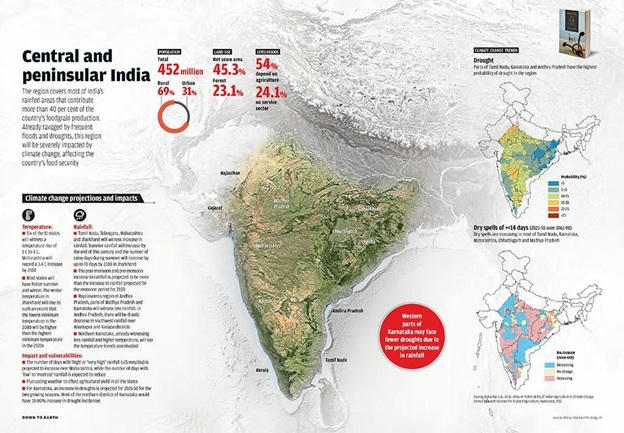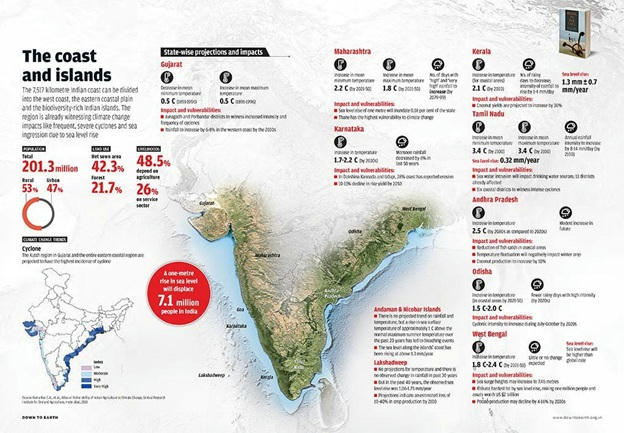 Problems
Against scientific warnings, carbon emissions continue to rise in China, the U.S., and India.
Brazil is encouraging unprecedented deforestation of the Amazon rainforest. As forest fires worsen global warming, the hardest hit by the resulting floods, storms, heatwaves, and droughts will be in India.
Cutting hurdles to investment can boost short-term growth and benefit interest groups. But damaging the environment would be self-defeating as it would impact long-term growth and well-being.
 India – vulnerability
A number of Indian States have experienced extreme heatwaves in the past three years, and Delhi recently recorded a temperature of 48°C, its hottest day in 21 years.
India's exposure to climate hazards is heightened by the location of its coastline in the Indian Ocean, Bay of Bengal and the Arabian Sea. 
India also has a high population density located in the danger zone. For instance, Kerala, which experienced intense floods and landslides in 2018 and 2019, is among the States with the highest density.
Increasing temperatures and changing seasonal rainfall patterns are aggravating droughts and hurting agriculture across the country.
Extreme storms like the one that hit Odisha this year and the floods that swept Chennai in 2015 are damaging when infrastructure is not resilient.
 Importance of resilience
India must boost its coastal and inland defences.
It needs to do more to build resilience in the sectors of agriculture, fisheries, manufacturing, energy, transport, health, and education. 
The priority for spending at the National and State levels for disaster management needs to
India must reinforce its infrastructure and adapt its agriculture and
India should replace urgently its fossil fuels with renewable energy.
Way ahead
Global leadership must act with greater urgency.
Countries should switch rapidly from polluting fossil fuels to cleaner renewable energy.
There is a need for building much stronger coastal and inland defences against climatic damage.
Climate vulnerability Ranking of the states
On a scale ranging 0-1, 1 indicating the highest possible level of vulnerability, at the top of the scale were Assam with a score of 0.72 and Mizoram at 0.71, whereas Sikkim, with an index score of 42 was relatively less vulnerable.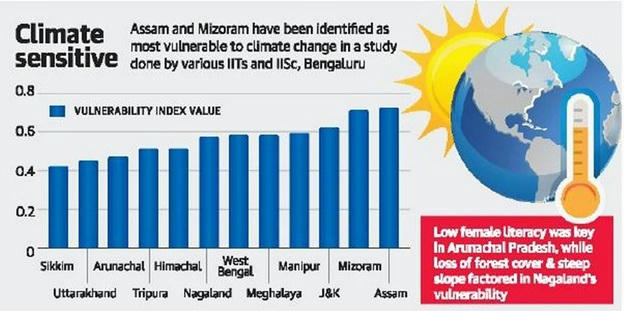 Assam is highly vulnerable to climate change because of factors like low per capital income, deforestation, large number of marginal farmers, least area under irrigation, lack of alternative sources of income and high rate of poverty.
 Additional Info:
https://www.thehindu.com/sci-tech/energy-and-environment/a-climate-vulnerability-index-for-india/article26537153.ece
 Mains Question
Why climate vulnerability assessment is important for Himalayan states?
Make Notes