Tag:GS2||Polity||International Relations||India & It's Neighbors||China
 Why in news?
The worse-than-expected outcomes saw exports drop 3.2 percent year-on-year, while imports plummeted 8.5% percent year-on-year in dollar terms, according to the General Administration of Customs (GAC).
Reason For Slows Growth:
Though retail sales growth picked up marginally in December to 8.2 percent, the consumer strength gauge is around the weakest in 15 years.
Auto sales in the world's biggest car market shrank for the first time since the 1990s.
Infrastructure spending – a major pillar of growth — is also expected to decline as China tries to rein in toxic debt.
Global reasons:
China's economic growth has been slowing since last year as the trade war with the United States takes a toll on factory activity, exports, and domestic demand.
Falls in export and import:

In recent weeks showed exports and imports unexpectedly shrank last month while falling factory orders point to a further drop in activity in the coming months and more job shedding.
Exports to the US, China's biggest foreign market, fell 17.8 percent to $36.5 billion, a deterioration from August's 16 percent decline.
China's global exports fell 1.4 percent from a year earlier to $218.1 billion. Imports fell 5.8 percent to $178.5 billion.

Some factories in Guangdong – China's export hub – have shut earlier than usual ahead of the long Lunar New Year holiday as new business dries up.
Demand is weakening globally, not just in the United States. Net exports actually dragged on China's growth by 8.6 percent last year.
Tit-for-tat tariff hikes on billions of dollars of each other's goods have battered manufacturers and farmers on both sides and disrupted supply chains worldwide.
Uncertainty has prompted some companies to postpone investments, adding to downward pressure on global growth and fueling financial market jitters.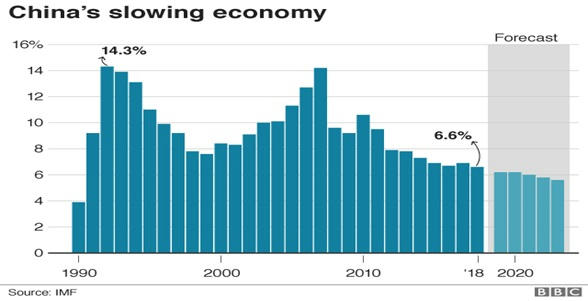 Implications for the Global Economy:
China's economic slowdown would impact different regions of the world in different ways depending on their exposure. In countries dependent on commodity exports, like Australia, Brazil, Canada, and Indonesia, the slowdown could have a negative impact on their GDP growth as demand slows.
Either way, the slowdown will require some adjustment on the part of the global economy. The country has been the single largest contributor to global economic growth over the past several years, according to the IMF, contributing 31 percent on average between 2010 and 2013. These figures are significantly higher than their eight percent contribution in the 1980s.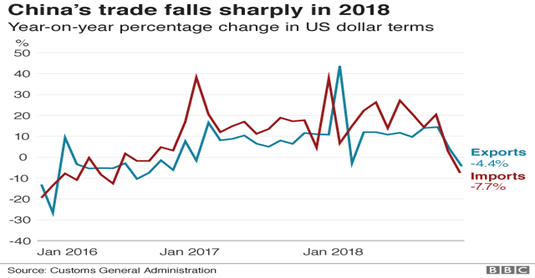 Government efforts:
The central bank of China said it was pumping 200 billion yuan ($28 billion) into the financial system through its medium-term lending facility to banks, which is designed to maintain liquidity.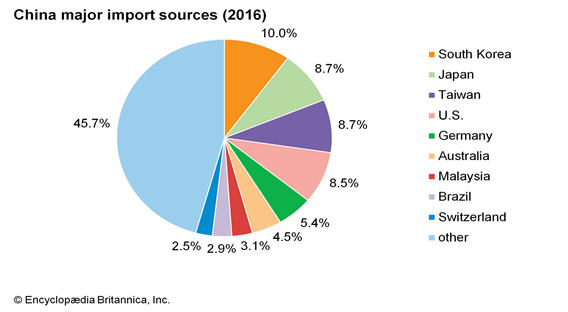 China's government has stepped up support for the economy with major tax, rate cuts and has scrapped foreign investment restrictions in its stock marke
Way forward:
Services and high-tech manufacturing were the key areas of growth, while employment was generally stable.
To recalibrate the economy from one driven by exports and investment to one built on consumer spending.
A limited agreement will not resolve the underlying areas of disagreement between the two sides as long-term divergence in US and China national interest remains across trade, technology, investment and geopolitics
Infrastructure spending: One is more infrastructure spending. This will be made possible by fiscal spending, especially by local governments.
Improvement in the tertiary industry: It is very important for China.

Around half of the growth is actually contributed by the tertiary industry.
Economists believe the country will have to migrate from manufacturing to services as a primary driver of GDP, just as other developed countries like the United States and those in Europe have done in the past. More moderate balanced growth of less than eight percent could raise employment, wages and private consumption more quickly than unbalanced growth greater than eight percent. In 2015 and 2016, the government has explicitly embraced this transition to services.

Increase Diversification:

Investors can mitigate the effects of a decline in any individual country by ensuring that their portfolio is properly diversified in countries around the world, including developed countries like the U.S. and regions like Europe, as well as in other emerging markets that could be positioned to take over manufacturing activity.
Conclusion:
The rebound in industrial production is encouraging, but the growth outlook has not brightened up yet with various tariffs still in place.
References:
https://www.dailymail.co.uk/news/article-7569831/Chinas-September-imports-US-fall-20-amid-tariff-war.html
https://www.thebalance.com/how-would-china-s-slowdown-affect-the-global-economy-1979076
Make Notes