Tag:GS3|| Economy|| Agriculture|| Animal Husbandry
Why in news?
The camel population has nosedived in Rajasthan by a staggering 34.69 percent between the years 2012 and 2019, the latest figures from the 20th Livestock Census show.
The Camel numbers lowest in Rajasthan in 7 decades.
 Livestock population in India:
Overall, the camel population in India has declined from 4 lakh in 2012 to just 2.5 lakh in 2019.
The 20th Livestock Census released by the Department of Animal Husbandry and Dairying. While overall, the livestock population has grown in the country by 4.63 percent, it has declined in Rajasthan by 1.66 percent, from 57.7 million in 2012 to 56.8 million in 2019.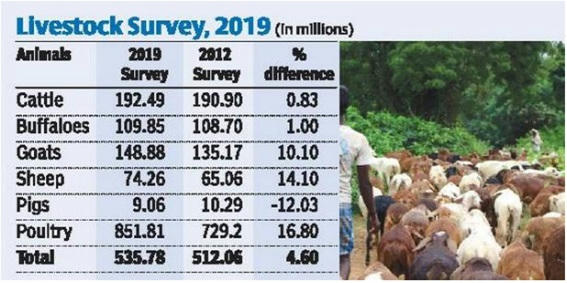 About the Camel Population:
About 85 percent of India's camel population survives in Rajasthan.
The other major states with a sizeable camel population include Gujarat, Haryana and Uttar Pradesh. In these states too, the prospects for the camel look bleak.
Since the last census in 2011, Gujarat lost 2,000 camels and has a population of 28,000 now. Haryana lost 72.65 percent of its camels in the last seven years and now has only 5,000 left.
Uttar Pradesh has only 2,000 — a decline close to 70 percent since 2011
Several factors responsible for this decline:
Modernization:

The economic importance of camels has been on a decline with modernization. Over 217,000 km of roads have been added to the desert state since independence, which has resulted in automobiles taking over camels in transportation.
The camel was an important draught animal in these states, but slowly, mechanization overtook it. Close to 217,000 km of roads have been added to Rajasthan since independence, which has resulted in automobiles taking over camels in transportation.
Tractor sales increased by over 400 percent since 2000, supplanting it for ploughing; and, farmers now prefer synthetic fertilizers over camel manure.
With increasing mechanization and synthetic fertilizer usage, the camel is no longer needed for transportation, ploughing, and manure.

Lack of pastures and grazing land: There has been a lack of pastures and grazing land for these animals. Agriculture is practiced throughout the year, so most agricultural fields are out of bounds.
No entry of camels: Forests make up about 8 percent of Rajasthan's total area, but the entry of camels have been controlled through fines and fees.
Policy failure: But the biggest reason has been because of policy failure. Rajasthan declared camels to be state animals in 2014.

The government also enacted the Rajasthan Camel (Prohibition of Slaughter and Regulation of Temporary Migration or Export) Act. One of the provisions of this law is that anybody caught transporting camels outside the state could be punished with a jail term of 1-5 years and also fined Rs 20,000.
This law only pushed its survival into greater uncertainty. Sale of camels dropped, prices crashed. The Rajasthan Animal Husbandry Department reveals the number of camels sold during the fair reduced by half after the law was enacted.
In 2013-14, nearly 1,700 camels were sold at Pushkar, which came down to 813 in 2017.
This act banned selling or transporting of these camels outside the state. This has left the animal without a market outside the state.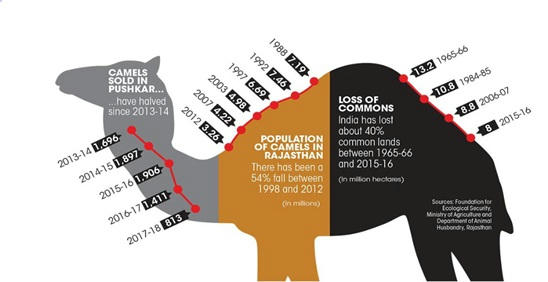 Concern:
Those breeders who have enrolled in the CDS scheme got the first two installments only in 2016-17. Since then no camel breeder has got any money.
While its importance was diminishing, there was still some demand and this came from an illegal but thriving camel meat market. There were reports of camels being sent for slaughter to Iran and Bangladesh.
 Government efforts:
Declaration of the camel as a state animal of Rajasthan.
Ushtra Vikas Yojana:

In October 2016, the Rajasthan government launched a scheme called the Camel Development Scheme (CDS) to incentivize breeding.
Under this scheme, a sum of Rs 10,000 is given to a camel breeder whenever a calf is born, and it is disbursed in three installments: Rs 3,000 at the time of birth; Rs 3,000 when the calf is nine-month-old; and, Rs 4,000 once the calf crosses 18 months.
Rajasthan's Department of Animal Husbandry says that more than 30,000 camel calves were born and 15,500 breeders have been given incentives.
A National Research Centre on Camels has been started in jorbeer Bikaner.
About the Camel Milk:
The Food Safety and Standards Authority of India (FSSAI) to recognize it as a food product. Part of the problem is that camel milk is quite unlike the milk from conventional milch animals.
There is evidence that camel milk is beneficial for diabetics.
Raikas know that camel milk is extremely beneficial for the body; modern scientific research is only now unraveling its secret healing powers.
Drinking camel milk for a prolonged period of time, patients suffering from Type 1 diabetes can reduce their insulin dependence by 60-70 percent.
Camel milk can cure or alleviate autism.
Camels feed on at least 36 different types of plants. Most of these trees and plants are used in Ayurveda as medicine and, therefore, the milk is highly nutritious. Camel milk has three times more vitamin C and 10 times more iron than cow milk. It also contains high levels of vitamin B3, immunoglobulin and minerals making it an ideal food for strengthening immunity.
In 2015 a study was conducted and blood samples of children showed high levels of antioxidants and the children also showed improvements in terms of immunity and other autistic parameters like eye contact and flapping of hands.
LPPS(Lokhit Pashu Palak Sansthan):
The micro-dairy as an experiment in 2004. It was started to provide monetary relief to camel breeders.
On February 24, 2019, LPPS formerly inaugurated it as a commercial venture with a brand of milk products called Camel Charishma. The dairy receives anything between 60-100 liters of milk from farmers. Their products include pasteurized milk; different types of plain and flavored cheese; smoothies; and, products made from camel poop and hair. But now camel milk is emerging as the new generation superfood.
 Way Forward:
The breeders can earn income by selling camel milk.
The cooperative, with help from a company to advise and provide professional management, can earn decent profits as well as fulfill its social purpose of providing adequate livelihoods to camel breeders. Such a system will provide a sustained livelihood to camel breeders.
 Additional info:
Lokhit Pashu Palak Sansthan means "welfare organization for livestock keepers" in Hindi.
LPPS is a non-profit organization registered under the Rajasthan Societies Act. It was set up in 1996 to support Raika camel pastoralists in an acute crisis.
 References:
https://www.downtoearth.org.in/news/wildlife-biodiversity/can-monetising-camel-products-revive-rajasthan-s-state-animal–64244
https://indianexpress.com/article/cities/jaipur/camel-numbers-lowest-in-rajasthan-in-7-decades-6077217/
Make Notes