Tag:GS2 || Polity || Other Constitutional Dimensions || Inter-State Relations
Why in news?
In the 9th round of repatriation which is termed as the final one 4477 Bru families lodged in 6 relief camps in Tripura are scheduled that to return to Mizoram.
Another initiative to repatriate the Mizoram Bru refugees stranded in the camps in north Tripura failed to receive a response from the inmates.
What is IDP?
An internally displaced person (IDP) is someone who is forced to flee his or her home but who remains within his or her country's borders.
They are often referred to as refugees although they do not fall within the legal definitions of a refugee.
For example, 7 million Syrian refugees inside the country itself.
About Bru people:
They are known as reang in Tripura.
They are known as bru in Mizoram.
They are one of the largest tribes of the 21 scheduled tribes of the Tripura.
The bru peoples are settled in Assam and Mizoram too.
The Bru speak Bru, a Mon–Khmer language, which has several dialects.
In Mizoram, Bru was largely restricted to Mamit and Kolasib districts.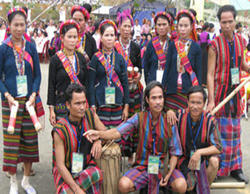 Why did they flee Mizoram?
In 1995, following a clash between Mizos and Brus the Mizo associations demanded that the bru tribe be removed from the state's electoral rolls.
They believed that the bru tribe was not indigenous to Mizoram.
This led to armed movements led by the militant's outfit Bru national liberation front(BNLF) and a political one by the bru national union(BNU).
Thousands of Brus had been lodged in the Tripura relief camps since late 1997 in the wake of a communal tension triggered by the brutal killing of Lalzawmliana, a forest guard, inside the Dampa Tiger Reserve on October 21, 1997, by Bru National Liberation Front (BNLF) militants.
They had fled Mizoram in 1997 following ethnic clashes and settled in Tripura.
The BNU claimed that 1391 Bru house in 41 villages were burnt down and several peoples were raped and killed.
Mizoram police put the number of homes torched at 325 in 16 villages and did not confirm rape or murder.
Around 37000 peoples of the Bru community fled moment, Kolasib and lunglei districts of Mizoram during the ethnic strike in 1997.
They took shelter in makeshift relief camps in kanchanpur and Panisagar subdivisions of North Tripura district and 22 years on 32000 still live in relief camps.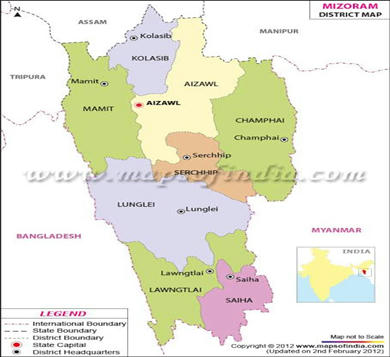 Efforts of repatriation:
Around 5000 displaced members of the community have returned to Mizoram in 8 phases of repatriation held from 2009 till today.
But many among them returned back to Tripura complaining of poor living standards and insecurity.
In the ongoing 9th phase of repatriation (October 2019), only 210 persons have returned so far.
 July 2018 four corners agreement:
Centre announced the signing of a historical agreement with the government of Mizoram and Tripura, the union home ministry and the MBDPF.
As part of the agreement, 32876 persons from 5407 families presently staying in Campos in Tripura would be repatriated to Mizoram before September 30, 2018.
According to the four corner agreement,

Rs 4 lakh would be deposited in the account of the head of each repatriated Bru family, which would mature after three years, and a payment of Rs 1.5 lakh as housing assistance.
Each repatriated Bru family would also be given Rs 5,000 through Direct Benefit Transfer every month and free ration for two years.
Entire process would cost ₹435 crore to the Centre over a period of two years.

The MBDNF pulled out of the agreement after a few weeks.
Latest 9th repatriation agreement:
The Centre has approved Rs 350 crore for the ninth phase of repatriation and the amount covers transportation and rehabilitation package expenses, which include Rs 5,000 per month for each resettled Bru family in Mizoram and free ration for them for two years.
The repatriation attempt was the latest of the MHA involving the State governments of Tripura and Mizoram and the Mizoram Bru Displaced Peoples Forum (MBDPF), apex body of the evacuees.
Why are the bru hesitant to return?
One time payment: the amount of Rs four lakh promised in the agreement to be given at one go in their savings accounts before they move to Mizoram
Post repatriation safety and security: The cluster villages are to ensure their safety. Some of the places where they were earlier have been lying vacant since, but some have gone into private hands where the majority community is using it as agricultural fields. So the question is, will those lands go back to our people or will they be settled on only the vacant places? This mainly raises the security issue.
Verification of land allotted for them in Mizoram: The Mizoram government will have to provide land in the two districts to have cluster villages and it has already expressed its inability to do so.
Development council: they are demanding development council because People want some political security in the state.
Cluster villages with at least 500 families in each one.
Mizoram bru displaced Peoples Forum(MBDNF):
A refugee organization it has been the sole reorganized body representing Brus living in Tripura since their exodus from Mizoram in 1997.
Current status:
 A group of women inmates of refugee camps shouted slogans in protest against the killing of one Linda Bru, who was allegedly burnt to death by her husband on October 3, 2019, in Mamit district of Mizoram.
A total of 51 Bru families returned to Mizoram since the repatriation began on October 3.
References:
https://thewire.in/rights/centres-historic-agreement-with-mizoram-bru-refugees-falls-through-for-the-moment
https://www.business-standard.com/article/pti-stories/new-bru-body-demands-adc-mizoram-to-start-repatriation-from-118080801390_1.html
https://www.business-standard.com/article/pti-stories/new-bru-body-demands-adc-mizoram-to-start-repatriation-from-118080801390_1.html
Make Notes