Tag:GS2 || International relations || India and its neighbours || Bangladesh
Why in news?
India, the fastest-growing major economy, is seen as the powerhouse of South Asia, but this may soon change.
Having already stolen a march over India on key social indices, small neighbour Bangladesh is now on the verge of establishing a lead on the economic front too.
The economic situation in South Asia :
The economic growth rate in Pakistan will be 2.8% —the lowest in South Asia — and the inflation rate will be 12% — the highest in the block of eight nations — in this fiscal year, the Asian Development Bank (ADB) projected.
The Asian Development Bank slashed its projection for India's economic growth in the ongoing fiscal year from 7% to 6.5%.
Bangladesh is likely to be the fastest growing economy in Asia in the ongoing fiscal year, with growth expected to be 8%, the ADB said.
Since 2016, Bangladesh has been growing at over 7 percent and this financial year will see it cross the 8 percent threshold as well – a mark it is expected to hit again next financial year, according to ADB estimates.
Bangladesh's economy grew 8.13 percent this fiscal year, the highest in its history.
 What Distinguishes Bangladesh?

The structure of Bangladesh's economy is quite different from India's. Unlike India, where the services sector contributes overwhelmingly while industry's contribution is much lower than desired.
This allows its economy to create jobs. In India, by contrast, the bulk of the population is still stuck in the agriculture sector, which contributes the least to the GDP.
The industrial sector, which has the maximum potential to absorb surplus labour from agriculture, is struggling to grow fast enough and create employment.
Bangladesh Exports: It is the strength of Bangladesh's domestic industries that, despite the trade war between global superpowers the US and China intensifying over the past year, Bangladesh's exports have grown from 6.7 percent in 2018 to 10.1 percent in 2019.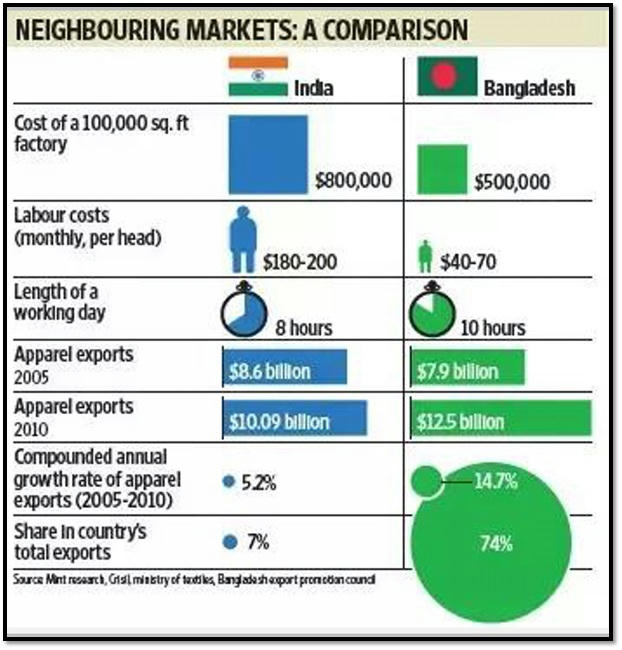 What makes Bangladesh — a hub of garment manufacturing?
Bangladesh is the world's second largest Readymade Garment (RMG) exporter, just behind China.
Country's 81% of exports come from the RMG sector, and the textile and Apparel sector contributes around 20% to Bangladesh's GDP.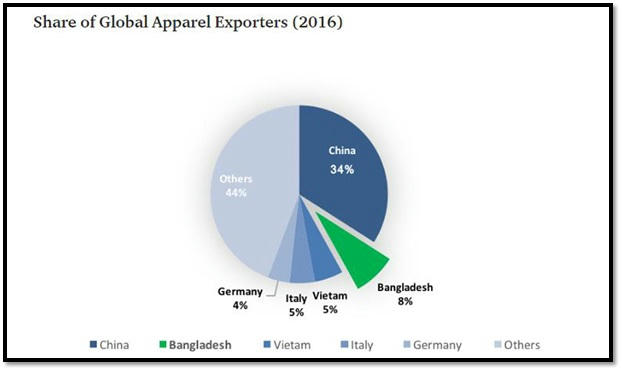 It employs around 20 million people in the country and is the major driving force of the country's economy.
Bangladesh plans to get the middle-income country status by 2021, and RMG sector is going to play a major role in it.
Bangladesh has set itself a target of achieving apparel exports worth $50 billion by 2021, and it seems to be on the right track.
Make Notes