Tag:GS2 || International Relations || India & Rest of the world || West Asia
Why in News?
Saudi Kingdom's State run Oil company Aramco's two vital oil sites Khurias (Oilfield) and Abqaiq (Oil processing facility) came under a massive attack by Drones and Missiles.
Yemen's Houthi rebels took responsibility for the attack and said that it is in response to Saudis recent Airstrike on Yemen.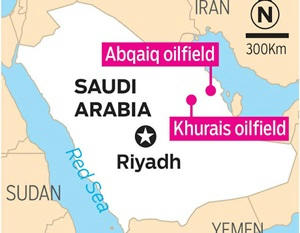 IMPACTS
Saudi Arabia is one of the largest producers of Oil in the world. The attacks have the lasting impacts on the world's Economic and Geopolitical scenarios. It worsen the situation in the middle East as US is accusing Iran for the attack.
Some of the major impacts :
On World
These attacks knocked off the crude oil production of almost 5 million barrels per day.
The attacked site Abqaiq is world's largest oil processing facility. Damage to this site has resulted in 15% increase in Oil prices.
The attacks raised question on air defense system of Saudi kingdom as it is the largest defense importer. Though Saudi has Patriot anti Missiles system It failed to detect the Drones.
The use of drones and it's accurate success may influence other militants across the world to attack their enemies with Drones. It is also a matter of concern in security perspective.
S strongly accused the Iran and threatened it with a response. This may lead to further escalations in the middle East or may lead to full fledged war.
Yemen Crisis referred as " One of the largest man made Humanitarian crisis"  will further deteriorate. This conflict is going on for the years between Saudi lead coalition and the Iran backed Houthi rebels.
On India
Saudi is our second biggest Oil supplier after Iraq.
India imports 83% of it's crude oil requirements. The surge in crude oil prices will hurt India's Economic growth
A $10 rise in Brent will lift India's annualised import bill by $15 billions. A 10 percent rise in oil prices widens India's current account deficit by 0.4-0.5 percent of GDP. These will in turn leads to Inflation.
It also increases India's Current Account Deficit (CAD). It will further reduces our Economic health which is already in a Slowdown.
Saudi has said it had committed to meet India's energy security needs.
What India needs to Do?
As a growing Economy India needs large amount of oil and other petroleum products to run it's engines.
India should diversify it's energy sources. Should invest more in R&D of renewable energy field.
India should look away from the middle East for it's crude oil requirements as this region always in turmoil.
India should strengthen it's air defense system, Drone attack may emerge as a threat from Pak supported terror organization. We should tighten Unmanned Areal Vehicles( UAV) regulations.
India should maintain it's neutrality as India is friendly to both Saudi and Iran. While Saudi provides us with oil, we have major development projects like chahabar port in Iran. It is our gateway to reach Afghanistan and central Asian countries.
Yemen Crisis
In 2011 the longtime Authoritarian Yemen Government headed by Ali Abdullah Saleh came to an end in the wake of Arab Spring. Power transferred to Abdrabuha Mansour Hadi.He has to face many problems like separatist in the south, Corruption, Food security. etc. Houthi Shia Muslim rebel movement took advantage of new President's weakness and seized the control of northern Saada province. They grew up stronger and took control of Sanaa forcing president Hadi to leave the country. Saudi Arabia accused Iran of supplying the Houthi rebels with Arms and weapons. Saudi along with other Sunni countries backed by U.S,U.K and France began air strike against the Houthis and Their aim was to reinstate the Hadi Government. This is the plain explanation of Yemen war but Due to  intervention of Powerful counties, Shia Sunni conflict and separatist movements along southern part made it as complex and worst Humanitarian crisis resulted in the killing of 7000+ civilians.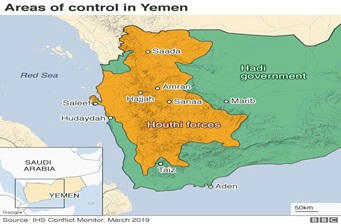 Make Notes