Tag:GS 2|| Polity || Judiciary || Supreme Court
Why in News?
SC Collegium Recommends Elevation Of Justice Kureshi As CJ Of Tripura HC, Modifying Earlier Proposal.
The Collegium recommend to elevate him as the Chief Justice of Madhya Pradesh in the May of this year. However Government delayed to notify this decision.
This move raised the question on integrity of the Collegium system.
Constitutional Provisions
Article 124( Supreme Court) and Article217(High courts)of the Indian Constitution deals with Appointment of the judges in receptive Court s. It says " Every judge of the Supreme Court/High Court shall be appointed by the president after consultation with such of the judges of the SC and of the High Courts in States as the president may seem necessary for the purpose".
Evolution
The appointment of the judges has long been a Bone of contention between Executive and Judiciary. The present appointment system i.e Collegium system has its origin in three of its own judgements popularly referred as Three Judge Cases
P. Gupta v. Union of India- 1981
Supreme Court Advocates-on Record Association vs Union of India – 1993
In reSpecial Reference 1 of 1998
The first judge case said that Consultation doesn't mean It means that there is no binding on the President to accept the recommendation.
The second judges case SC altered it's previous order and said that Consultation means Concurrence i.e President must obey the recommendations of the Judges. It also said President should consult Chief Justice to India and Two other senior most judges of SC.
In Third judge case SC reaffirmed the same as Second judges case but increased the number of consulting judges from two to four. From then onwards President appoints the judges after the consultation with the CJI and Four senior most judges and the consultation is binding on the President.
What is Collegium system?
A system in which decisions of appointment and other related aspects such as transfer of Judges in Supreme Court and High Courts are taken by a group of Judges.
Appointment of Judges in Supreme Court is done by a Collegium system consists of Chief Justice of India (CJI) and four senior most SC Judges.
Irregularities in Collegium system
This system ensures Independence of the Judiciary but it works in an opaque manner and it is not accountable to anybody. It leads to nepotism and favoritism in the Judiciary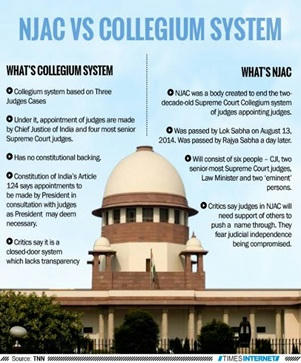 Reforms
Many reform measures have been recommended to the process of Judges appointment. National Judicial Appointment Committee (NJAC) is one among them.
In 2015, Parliament passed  99th Constitutional Amendment Act, Through which NJAC was established.
It is an alternative to the Collegium system in which judges are appointed by a committee that includes members from Judiciary, Legislation and Executive.
Composition of the NJAC
Chief Justice of India
2 senior most judges of SC
Union Minister of Law and Justice
2 Eminent persons to be nominated by a committee of CJI, Prime Minister, leader of the opposition in lol Sabha.
This method was received appreciation from the general public and from law experts but Supreme Court was not happy with this new method.
In October 2015, SC quashed NJAC and 99th Constitutional Amendment Act declaring it as Unconstitutional. The Apex court said that the Independent Judiciary is a part of the Basic Structure of the Constitution.
Way Forward
Collegium system should be reformed without allowing Executive and Legislative bodies to intervene in.
There should be a time frame for the government to implement Collegium decisions.
Independency of the SC should be maintained but it should also be held accountable for the appointments it makes.
Make Notes