Tag: GS 3|| Environment || Biodiversity || Protected Area Network
Why in News?
Maharashtra government is firm in ceding the Aarey forest land for metro projects.
This has aggravated distress among civil society as the forest area falls under the eco-sensitive zone.
Latest Developments
The Bombay High Court recently dismissed a petition challenging the decision of the Brihan Mumbai Municipal Corporation's Tree Authority to allow felling of 2,185 trees, and transplantation of 460, on a 33-hectare land at Aarey for the construction of a Metro rake depot.
Aftermath widespread protests and section 144 imposed was imposed in Aarey area.
Nearly 1,500 trees were chopped on Day 1.
Significance of Aarey forest
It is considered to be Mumbai's green lung which spreads over 1,300 hectares in the city's northern suburb.
It is home to several species of birds, insects and leopards, and was once part of the adjoining Sanjay Gandhi National Park.
This forest was once used to be over 3,000 acres in north Mumbai has been reduced to around 1,300 acres.
 Threats to the Aarey Forest
The Aarey Milk Colony (also Aarey Colony) is a neighbourhood situated in Goregaon (East), a suburb of the city of Mumbai.
The Aarey forest was developed as a milk colony for dairy development.
In 1949, 3,160 acres were pencilled off for the Aarey Milk Colony, which comprised a milk factory, pastures for cattle grazing and residential units for labourers.
It was established revolutionize the processing and marketing of dairy products in the city.
In 1977, Film City was built on a part of Aarey forest. A zoo has also come upon another part of the Aarey forest. Now, there could be metro car shed
16,000 cattle are also reared on the land
The colony also has gardens, a nursery, lakes, an observation pavilion, picnic facilities, and milk plants.
Aarey is famous among nature enthusiasts for being the green lungs of the city.
Allocation of land in Aarey
Total land given to the Central Government of India Institutions (Central Poultry Farm, Modern Bakery, NDDB, RBI)—229.92
Total land given to the Maharashtra State Government Institutions (Mumbai Veterinary College, SRP, MHADA, MCGB, Film City, Fishery)—729.12
Area under road and buildings—460.00
Area uncultivated and wasteland under nallah, lake, farm bunds, farm roads, river channels—1,020.20
Area under lawns and gardens, para grass, and orchards—537.00
Land and the social forestry land, etc.—183.00
Total—3,160 acre
Land allotted to MMRCL –81 Acre
Mitigation
MMRCL, the project proponent has already planted 20,900 trees with GPS tagging on each plant in Sanjay Gandhi National Park and the survival rate is 95%.
State Governments argument
State government defended the project that they have a rehabilitation plan in place. The Metro will mitigate the carbon footprint. All environment assessments done.
The underground metro project would mitigate carbon footprint to an extent that otherwise, we would require as many as 2 crore trees to be planted in Mumbai, which is impossible.
 What will be the consequences of the government's move?
The developments in this area have consequences of the felling of over 2,185 trees.
The metro car shed construction is expected to be declared as a high-security area which will rob enthusiasts of one of their favourite cycling or trekking venues.
There are also concerns related to tribals who stay in Aarey and their rehabilitation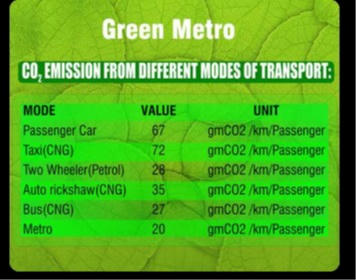 The example of the Delhi Metro
People then protested against felling of trees for Delhi metro stations and metro line.
But DMRC has planted 5 trees for every single tree that it has taken down.
Operational Network- 377 km, Number of Stations -274
Forest cover area has increased in Delhi.
30 lakh people are using the metro as public transport.
The politics of a jungle
Congress-NCP members on Tree Authority of BMC helped BJP to allow tree cutting.
In August 2019, the resolution was passed 8-6.

Shiv Sena –Opposed and voted against
Cong –boycotted the vote
NCP –Supported BJP

If both the opposition parties had opposed the resolution, it would have been rejected by 9-8.
Response to the pleas and protests
The Supreme Court recorded an assurance given by the State of Maharashtra that no more trees will be felled in the Aarey forest for a Metro car shed till the next date of court hearing on October 21.
The central government backs for Aarey tree felling and calls for development with environmental protection.
In order to compensate the loss, MMRC has planted 23, 846 trees and distributed 25,000 saplings as a part of its green initiatives.
 Mains model questions
Deforestation rises with incomes in developing economies. Discuss
References
Make Notes