Tag: GS 3 || Economy || Banking & Financial Sector || Financial Regulators
Why in news?
The Securities and Exchange Board of India (SEBI) declared the National Stock Exchange (NSE), India's largest equity bourse, guilty of not exercising due diligence in the co-location scam.
The exchange has been asked to pay a fine of 625 crore plus 12 per cent (for five years) interest.
Scam
Co-location: Co-location allow brokers to operate closer to their servers upon payment of additional fees.

It helps brokers secure advantage over others due to proximity to exchange servers as data transmission takes less time.
Orders reach exchange servers faster than those who have not availed of the facility.

A whistleblower in 2014-15 complained to the Securities and Exchange Board of India (SEBI) saying some brokers in collusion with a few top NSE officials had abused the colocation facility.
Tick-by-tick (TBT) server: NSE was then using the so-called tick-by-tick (TBT) server protocol to relay data to members.

The peculiar part about this protocol is how it delivers the information.

Normal data protocols send data to all users connected on the network at the same time.
But TBT transmits in the sequence of orders received.

In other words, the user who gets the access to the system first would receive data earlier than the rest.

A select set of brokers in collusion with NSE officials and Omnesys Technologies (the company that provided technology to NSE) got the first access to the NSE's servers giving them a head start.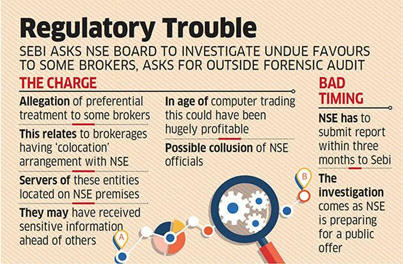 SEBI's order
Unfair trading practices: The SEBI order found OPG Securities, GKN Securities and Way2Wealth along with internet service provider Sampark Infotainment were guilty of unfair trading practices.

The exchange allowed OPG and others access to back-up servers and gave them first access which helped them in executing orders fast.

License: NSE also overlooked the fact that Sampark Infotainment did not have a valid Department of Telecom license to provide dark fibre connectivity to some brokers.
NSE top officials: Along with brokers, SEBI has also charged several NSE top officials for colluding with brokers.

In its report, SEBI has clearly said that the key functionaries did not follow the appropriate protocols.

Further, NSE will have to pay Rs 687 crore and it can't access capital markets for six months.
Its IPO will be delayed till the year-end but that is unlikely to affect NSE or its valuation.
NSE also has enough reserves to pay this fine and remain financially strong.
How did OPG and others pull this off?
OPG got access to NSE's backup servers which were maintained by the exchange to prevent technical glitches on the main server from impacting operations.
Traffic is either light or non-existent on these servers as they are for backup only. On normal days, even when the main server is working, anyone logging in through backup servers can send and receive data faster. OPG and others exploited this to their advantage.
Did NSE break rules?
Supervisory negligence: SEBI ruled that it did not find sufficient evidence to conclude that the NSE committed a fraudulent act, but was unequivocal in ruling that the Exchange had failed to exercise the necessary due diligence to ensure that it served as a fair marketplace.
Market fairness: While it has not yet been proven decisively that the firms with preferential access to data from the exchange managed to profit from such data, the episode raised serious questions about market fairness.
Significance
Interests of investors: Millions of investors choose to do their trading on market platforms like the NSE every year in the belief that the marketplace offers an equitable environment to carry out their trades.
Regulatory action: While there is bound to be debate about the magnitude of the fine, overall the financial penalty is a welcome regulatory action.
Confidence of investors: As the markets regulator, SEBI must deal with breaches of their supervisory brief by exchanges in an exemplary manner to ensure that small investors retain confidence in the fairness and soundness of key institutions that enable a market economy.
Additional info
Securities and Exchange Board of India (SEBI)
The SEBI is the regulator for the securities market in India. It was established in 1988 and given statutory powers on 30 January 1992 through the SEBI Act, 1992.
Composition of SEBI:

The Board of Securities & Exchange Board of India (SEBI) is comprised of 9 members, excluding the Chairman. It is managed by its members, in the following manner:

A Chairman is nominated by the Union Government.
2 members are officers from the Union Ministry of Finance.
1 member is from the Reserve Bank of India.
3 whole-time members, who are nominated by the Government of India.
2 Part-time members, who are also nominated by the Government of India.
Functions and responsibilities:
SEBI has to be responsive to the needs of three groups, which constitute the market:

issuers of securities
investors
market intermediaries

SEBI has three functions rolled into one body:

quasi-legislative: it drafts regulations
quasi-judicial: it conducts investigation and enforcement action
quasi-executive: it passes rulings and orders in its judicial capacity

Though this makes it very powerful, there is an appeal process to create accountability.

There is a Securities Appellate Tribunal which is a three-member tribunal and is currently headed by Justice Tarun Agarwala, former Chief Justice of the Meghalaya High Court.
A second appeal lies directly to the Supreme Court.

SEBI has taken a very proactive role in streamlining disclosure requirements to international standards.
Mains question
What is co-location? Explain in the context of NSE co-location scam. Critically analyze SEBI's verdict in the case.
Make Notes