Tag: GS 3 || Economy || Agriculture || Animal Husbandry
Why in news?
Despite being one of the world's largest producers, India lacks a coherent poultry policy.
Recent issue
Brazilian meat processor JBS: Recently the government allowed a Brazilian meat processor JBS, the world's largest meat seller with a turnover last year of over 3.2-lakh crore, to sell processed chicken pieces — primarily leg pieces, of which Indians are inordinately fond of, and quarters.
Coming on top of India losing its protracted battle at the World Trade Organisation (WTO)over the import of frozen chicken legs from the US last year, this is bad news for India's booming poultry sector, one of the world's largest. And the impact has been immediate.
Frozen chicken imports in the April 2018-January 2019 period surged to surged to over 136 tonnes, from a mere 100 kg in the same period a year prior.
Impact on domestic industries
Although processed meat, such as chicken legs or sausages still attract 100% import duty, the cost of production for scale players in the global meat industry is so low that, even with 100% duty, the landed cost is 20% cheaper than the production cost in India.
India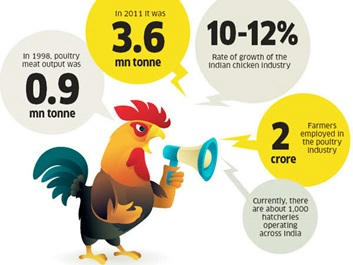 Major producer: India's broiler meat production was a whopping 4.2 million tonnes (carcass weight) in 2017, and egg production crossed 88 billion, the world's second largest.
The sector as a whole (which includes eggs and layer production) is the fastest growing amongst the gamut of India's agri-industries, clocking annual growth rates of 7-8%.
70% organized: And although nearly 70% of India's poultry production is in the organised sector, with vertically integrated processes, their sizes tend to pale in comparison with global players.

US meat producer Tyson, for instance, had 2017 revenues of over $40 billion, making it one of the world's largest companies in any sector.
Tyson alone slaughtered a staggering 1.8 billion chickens in 2017, while India's total chicken population is estimated at around 2.5 billion!
Global players
Global players enjoy significant advantages which even the organised producer in India does not, leave alone the small or backyard farmer, who accounts for about a third of the market.
Low cost of feed: The biggest, of course, is the low cost of feed, which accounts for between 60 and 70 per cent of the production cost of a bird.

Brazilian or American birds are fed on cheaper genetically modified maize and soya, which are banned in India.
Both maize and soya, being agricultural crops, suffer from the same vagaries of weather and prices which afflict other grain crops in India.
Maize prices have been hardening over the past six months and have risen nearly 50 per cent during the period, while broiler prices have increased only by around 40 per cent.
Producers are unable to pass on the full cost increases, fearing a demand drop.
Challenges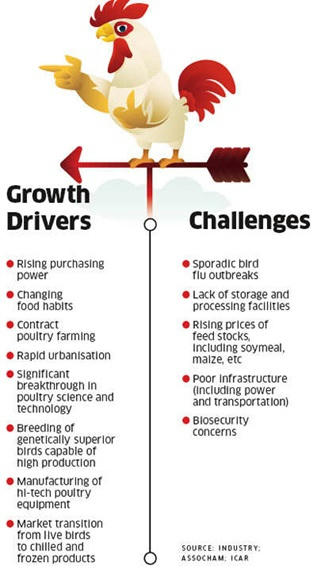 Infrastructure: The lack of infrastructure only compounds their woes. There is a massive shortage of infrastructure for value addition such as processing, warehousing, cold storage and refrigerated supply chains.

This means that about 94 per cent of the market is still for raw meat, which limits the upside for the poultry producer.
Lack of cold chains, and the fact that both eggs and birds are highly perishable, sensitive to even small fluctuations in the weather, means that the holding capacity of producers is very limited.

Large fluctuations in soya meal and maize prices also mean that they are unable to predict pricing with certainty and are at the mercy of the distributors.
Add frequent outbreaks of disease and you have a picture that is uncertain at the best of times for the producer.
Regulation and control: Of course, lack of proper regulation and control has led to some terrible practices in the business, which threatens the entire ecosystem.

Antibiotics: Foremost is the rampant overuse of antibiotics and even growth hormones to speed up weight gain.

An investigation showed how the uncontrolled use of a 'last hope' antibiotic, colistin, is leading to a worldwide rise in drug resistant superbugs.

All this points to the urgent need for a coherent, national policy for India's poultry sector.
Mains question
What are the issues faced by the poultry sector in India? Does India need a coherent poultry policy?
Make Notes