Tag: GS 3 ||Science & Technology||Biotechnology|| Human Genome & DNA
Why In News?
Genetic studies on the people of the Lakshadweep archipelago was done by a team of CSIR-Centre for Cellular and Molecular Biology (CCMB), for the first time.
DNA samples of 557 individuals from eight major islands for mitochondrial DNA and 166 individuals for Y chromosome markers were analysed.
Genetic Study Findings
The islands are located between Africa and southwestern part of India.
Through our earlier studies we know that early human migration from Africa to Andaman and Australia happened through western coast of India.
So it was presumed that Lakshadweep Islands might have played a major role in early human migration and expected the presence of genetic signatures of ancient people, such as Andamanese and Australian aboriginals.
The study of major islands of Agatti, Andorth, Bitra, Chetlat, Kadmat, Kalpeni, Kiltan and Minicoy of Lakshadweep and demonstrated a close genetic link of Lakshadweep islanders with people from Maldives, Sri Lanka and India.
Why study Lakshadweep?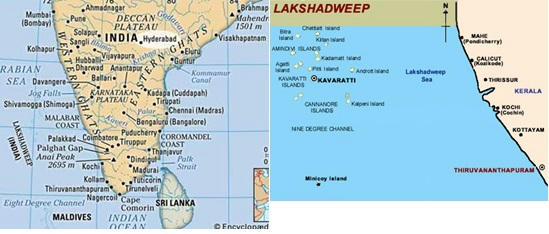 Lakshadweep is an archipelago of 36 islands, scattered over approximately 78,000 square km of the Arabian Sea, 200-440 kms off the south-western coast of India, with a population of approximately 65,000.
However, the genetic composition of the first human settlement of this archipelago is not clear.
The islands were known to sailors since ancient times and historical documents say that the spread of Buddhism to these islands happened during 6th century B.C. and Islam was spread by in 661 A.D. by Arabians.
Cholas ruled the islands in 11th century, Portuguese in 16th century, Ali Rajahs in 17th, Tipu Sultan in 18th before the British Raj of 19th century.
About Centre for Cellular and Molecular Biology:
The Centre for Cellular & Molecular Biology (CCMB) is a premier research organization which conducts high quality basic research and trainings in frontier areas of modern biology, and promote centralized national facilities for new and modern techniques in the interdisciplinary areas of biology.
It was set up initially as a semi-autonomous Centre on April 1, 1977 with the Biochemistry Division of the then Regional Research Laboratory (presently, Indian Institute of Chemical Technology, IICT) Hyderabad.
It is located in Hyderabad and operates under the aegis of the Council of Scientific and Industrial Research (CSIR).
It is designated as "Center of Excellence" by the Global Molecular and Cell Biology Network, UNESCO.
Additional References
https://www.thehindu.com/sci-tech/scientists-carry-out-genetic-study-on-people-of-lakshadweep-islands/article27051377.ece
Mains  Question
What is the significance and potential of the genetic study?
Make Notes