Tag:GS2 || International relations || International organisations || UN
Why in news ?
India's candidature for a non-permanent seat in the Security Council has been endorsed unanimously by the Asia Pacific group, which comprises 55 countries, including Pakistan.
The endorsement means that India has a "clean slate" candidature – that is there is no other contestant from the group – for the elections that will be held for five non-permanent members next year, for the 2021-22 term.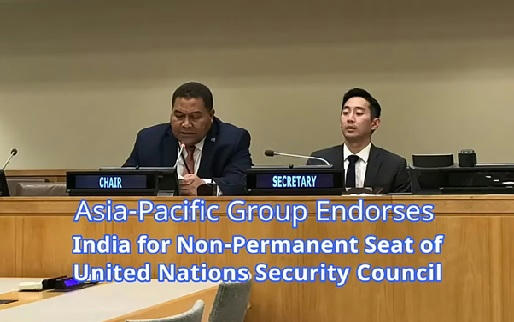 Background:
India has been a non-permanent member of the Security Council eight time previously: 1950-51, 1967-68, 1972-73, 1977-78, 1984-85, 1991-92 and 2011-12. For the 2011-12 term, India won 187 of 190 votes after Kazakhstan stood down from its candidacy.
How are non- permanent members elected?
Each year, the General Assembly elects five non-permanent members out of a total of 10, for a two-year term.
Distribution of seats: These 10 seats are distributed among the regions thus: five for African and Asian countries; one for Eastern European countries; two for Latin American and Caribbean countries; two for Western European and other countries.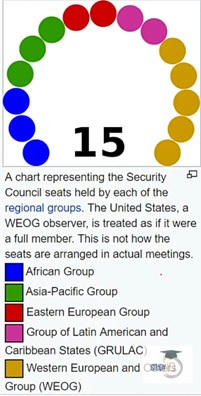 Of the five seats for Africa and Asia, three are for Africa and two for Asia; there is an informal understanding between the two groups to reserve one for an Arab country. The Africa and Asia Pacific group takes turns every two years to put up an Arab candidate.
Elections for terms beginning in even-numbered years select two African members, and one each within Eastern Europe, Asia-Pacific, and Latin America and the Caribbean. Terms beginning in odd-numbered years consist of two Western European and Other members, and one each from Asia-Pacific, Africa, and Latin America and the Caribbean.
Votes: Irrespective of whether a country is a "clean slate" candidate and has been endorsed by its group, it needs to secure the votes of two-thirds of the members present and voting at the General Assembly session (a minimum of 129 votes if all 193 member states participate). When contested, the elections for non-permanent seats can be fraught and can go on for several rounds, In 1975, there was a contest between India and Pakistan, which went to eight rounds. Pakistan won the seat that year. In 1996, India lost a contest to Japan.
About UNSC:
What is it?
The United Nations Security Council (UNSC) is one of the organs of the United Nations and is charged with the maintenance of international peace and security.
Its powers include the establishment of peacekeeping operations, the establishment of international sanctions, and the authorization of military action through Security Council resolutions; it is the only UN body with the authority to issue binding resolutions to member states.
Members: The Security Council consists of fifteen members. Russia, the United Kingdom, France, China, and the United States—serve as the body's five permanent members. These permanent members can veto any substantive Security Council resolution, including those on the admission of new member states or candidates for Secretary-General.
The Security Council also has 10 non-permanent members, elected on a regional basis to serve two-year terms. The body's presidency rotates monthly among its members.
Why India should be given a permanent seat in the council?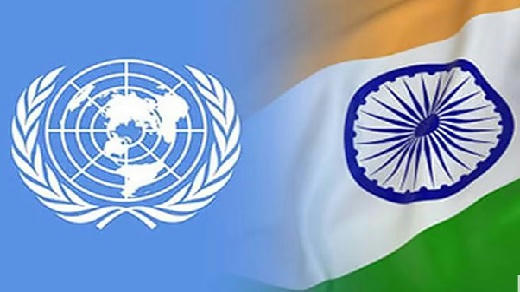 India was among the founding members of United Nations.
It is the second largest and a one of the largest constant contributor of troops to United Nations Peacekeeping missions.
It has been a member of UNSC for 7 terms and a member of G-77 and G-4, so permanent membership is a logical extension.
Make Notes