Tag: GS3 || Science and technology || Space || Policy
Why in news ?
To enhance the capabilities of the armed forces to fight wars in space, the government has approved the setting up of a new agency which will develop sophisticated weapon systems and technologies.
Details :
The Cabinet Committee on Security headed by Prime Minister Narendra Modi has cleared the setting up of the Defence Space Research Agency (DSRA).
DSRA has been entrusted with the task of creating space warfare weapon systems and technologies.
The agency would be provided with a team of scientists which would be working in close coordination with the tri-services integrated Defence staff officers.
It would be providing the research and development support to the Defence Space Agency (DSA) which comprises members of the three services.
The DSA has been created "to help the country fight wars in the space".
The Defence Space Agency is being set up in Bengaluru under an Air Vice Marshal-rank officer and will gradually take over the space-related capabilities of the three forces.
Space exercise :
India to hold it's first-ever simulated space warfare exercise It has been named – IndSpaceEx.
This exercise will basically be a 'table-top war-game', with all stakeholders from the military and scientific community taking part in it.
All military stakeholders, including those from the scientific community, will participate in it.
Main objective of the exercise is to understand the possible challenges in space warfare and to counter China's growing influence in this domain, which poses a major threat to India's national security interest.
Militarisation of space by the different powers of the world :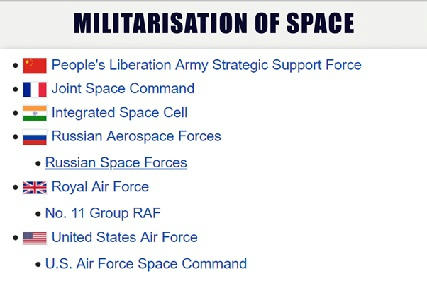 Make Notes