Tag:  GS 2 || International Relations  || India & Rest of the World || USA
Why In News?
The United States government has updated visa application forms to require nearly all applicants to provide their social media usernames, email addresses, and phone numbers for the past five years. The requirement to provide the additional information is in line with the Donald Trump administration's decision to ensure more stringent screening of potential immigrants and visitors to the United States.
Remittances To And From India By Country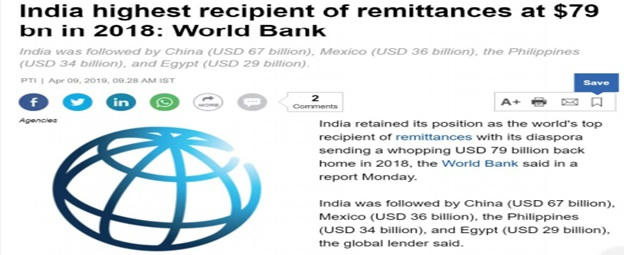 In 2018, the US issued 10,06,802 non -immigrant visas to Indians, the third largest national group behind the Chinese and Mexicans, and amounting to a little over 11% of total non-immigrant visa issuances.
New Changes
The State Department is now requiring nearly all applicants for U.S. visas to submit their social media usernames, previous email addresses, and phone numbers.
National Security
"National security is our top priority when adjudicating visa applications, and every prospective traveler and immigrant to the United States undergoes extensive security screening," the department said.
"We are constantly working to find mechanisms to improve our screening processes to protect U.S. citizens while supporting legitimate travel to the United States."
Policy Under Obama
The new requirement marks a shift away from the voluntary disclosure of social media profile information under the Barack Obama administration. The new mandatory policy announced by the Trump administration also monitors those already in the US, such as green card holders.
2015 San Bernardino Attack
On December 2, 2015, 14 people were killed and 22 others were seriously injured in a terrorist attack consisting of a mass shooting and an attempted bombing at the Inland Regional Center in San Bernardino, California. The perpetrators, Syed Rizwan Farook, and Tashfeen Malik, a married couple living in the city of Redlands, targeted a San Bernardino County Department of Public Health training event and Christmas party of about 80 employees in a rented banquet room.
News reports at the time said that the shooter, Rizwan Farook, had been posting violent messages under a pseudonym online.
In the aftermath of the shooting, many Democrats also voiced approval of social media surveillance methods. President Obama too called upon technology companies to combat terrorist activities
Mains  Question
Why the US wants social media details of most visa applicants? What is the rationale behind and concerns regarding it?
Make Notes