Tag: GS 3 || Economy || Banking & Financial Sector || Inflation
Why in news?
Retail inflation surged to a seven-month high in May 2019. It is the fourth consecutive monthly rise.
But there is some good news as the financial year 2019-20 began on a positive note with the industrial sector registering 3.4% growth in April.
Why is this critical?
Budget scheduled: The data is critical as the General Budget is scheduled to be presented on July 5.
Overall industrial scenario is not satisfactory: Though the latest monthly data is encouraging, the overall industrial scenario is not so upbeat, as various sectors, and in particular the automobile and FMCG sectors, are facing slowdown in sales — a reason for India Inc to seek some relief and incentives in the Budget.
Retail inflation within inflation targeting: Though the rate of retail inflation has gone up, it is still below 4%, the median rate for inflation targeting.
Possibility of another rate cut: This opens the possibility of one more rate cut during the fiscal, if not in the August policy review.

The MPC, chaired by the RBI Governor, went for three successive policy rate cuts with the latest one being earlier this month.
It also changed its stance to 'accommodative' from 'neutral'.
Considering comprehensive and coordinated approach for growth, the market is expecting another rate cut and/or liquidity enhancing measures such as lowering cash reserve ratio (CRR).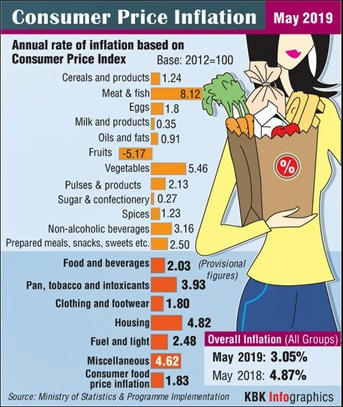 Retail inflation
Indicated by CPI: Rate of retail inflation as indicated by the Consumer Price Index (CPI) recorded 3.05% in May, as against 2.99% in April.
Food inflation: This is highest after October, 2018. Food inflation (May 2019: 1.83%, April 2019: 1.10%) was the major driver for retail inflation.
Vegetables and pulses were major drivers of food inflation.

Vegetables inflation at 5.5% was 11-month high and
pulses witnessed inflation after a gap of 29 months.

While vegetables inflation is mainly due to summer seasons and are cyclical in nature, the expectation is that it is likely to go up further as prices tend to rise during the monsoon.
Monetary policy
Supportive of growth: The RBI may continue to pursue policy that would be supportive of growth.
Further cut expected: The RBI has cut policy rates in the last three monetary policy reviews.

Although the impact of the monetary policy is felt with a lag, India Ratings believes there is still a scope of one more rate cut in FY20.
However, besides being dependent on data it will also take into consideration fiscal policy stance of the government.
Industrial Growth
Indicated by IIP: Meanwhile, industrial growth, as indicated by Index of Industrial production (IIP) rose to 3.4% in April as against the revised 0.35% in March, however lower than 4.5% during May 2018.
At a broad classification level the main thrust to IIP growth came from electricity and mining sector but growth in the manufacturing sector is still below 3% which is affecting not just overall industrial growth but also employment scenario,
However, the whole picture is not very encouraging on the industrial production front.

Given the fluctuation in the IIP growth data it is difficult to believe that we are on our way or anywhere near to a broad based and sustainable industrial recovery.
Mains question
Examine the causes driving the rising inflation. Suggest measures that should be adopted to keep inflation in check.
Make Notes