Tag: GS 2 || Polity ||Political Dynamics|| Elections                       
Why In News?
Home Minister Amit Shah considering delimitation of constituencies in Jammu and Kashmir.

 Delimitation
Delimitation means the drawing of boundaries.
The boundaries may be domestic, national and International, but the most general use of this term is in context with electoral boundaries.
Article 82 In The Constitution Of India 1949
Under Article 82 of the Constitution, Parliament enacts a Delimitation Act after every Census which establishes a delimitation commission.
The main task of the commission is redrawing the boundaries of the various assembly and Lok Sabha constituencies to ensure an equitable population distribution.
 Asymmetric Representation
The last Delimitation happened in J and K in 1993 and the 2002 amendment allowed the state government to freeze the Delimitation process up to 2026, which enabled the status quo of more seats from the Kashmir region.
Currently, in the total 87 elected members, Jammu, and Kashmir Assembly, The Kashmir valley region has 46 seats, the Jammu region has 37 seats and the Ladakh region has 4 seats
The problem here is that that the seats in Jammu region have much large number of voters and in the Kashmir region much fewer voters compared to Jammu region.
Jammu And Kashmir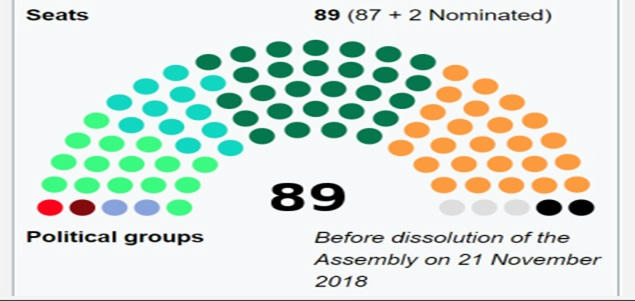 Notes
The average number of voters per state assembly seat in Kashmir region is far less than that in the Jammu region. Ladakh because of its size, terrain and other reasons have to have separate yardsticks in this regard.
Facts
Currently, it is heavily skewed in favor of Kashmir region at the cost of Jammu and Ladakh regions. Kashmir accounts for 15.8% of the area and 54.9% of the population.
Jammu region accounts for 25.9% of the area and 42.9% of the population while the Ladakh region has 2.2% of the population but 58.3% of the area. (Figures from Census of 2011).
Additional References
https://www.thehindu.com/news/national/other-states/jk-parties-oppose-centres-delimitation-plans/article27473265.ece
Mains  Question
What is the importance of Delimitation in a democracy?
Make Notes