Tag:GS2 || international relations || international organisation || Miscellaneous
Why in news ?
World leaders from 19 countries – and the European Union – are meeting in Osaka, Japan for latest edition of G20 summit.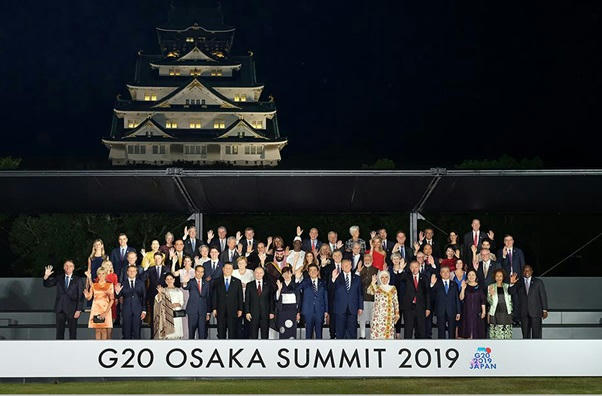 What is the G20?
The G20 (or Group of Twenty) is an international forum for the governments and central bank governors from 19 countries and the European Union (EU). Founded in 1999
The very first of G-20 summit was held in the Washington, D.C. (United States) in 14–15 November 2008. Currently 14th G-20 summit is going on in Osaka (Japan) on 28–29 June 2019. In this summit Indian delegation is headed by the PM Narendra Modi.
The G20 is an annual meeting of leaders from the countries with the largest and fastest-growing economies. Its members account for 85% of the world's GDP, and two-thirds of its population.
The G20 Summit is formally known as the "Summit on Financial Markets and the World Economy".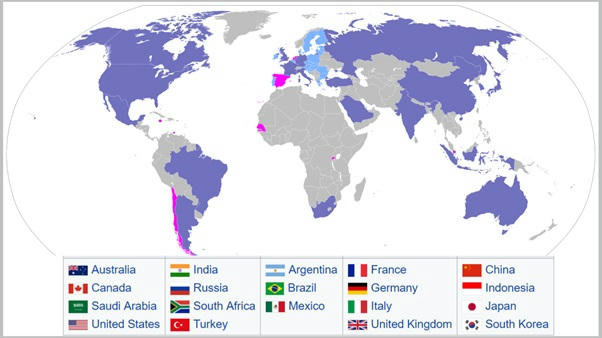 Establishment:
After the Asian Financial Crisis in 1997-1998, it was acknowledged that the participation of major emerging market countries is needed on discussions on the international financial system, and G7 finance ministers agreed to establish the G20 Finance Ministers and Central Bank Governors meeting in 1999.
Presidency:
The group has no permanent staff of its own, so every year in December, a G20 country from a rotating region takes on the presidency.
That country is then responsible for organising the next summit, as well as smaller meetings for the coming year.
They can also choose to invite non-member countries along as guests. The first G20 meeting took place in Berlin in 1999, after a financial crisis in East Asia affected many countries around the world.
Who attends these meetings?
At first, the G20 was mostly attended by finance ministers and central bank governors.
That changed after the global financial crisis in 2008. With banks collapsing, unemployment rising and wages stagnating, the organisation turned into an emergency council for presidents and prime ministers.
Full membership of the G20:
Argentina, Australia, Brazil, Canada, China, France, Germany, India, Indonesia, Italy, Japan, Mexico, Russia, Saudi Arabia, South Africa, South Korea, Turkey, the United Kingdom, the United States and the European Union.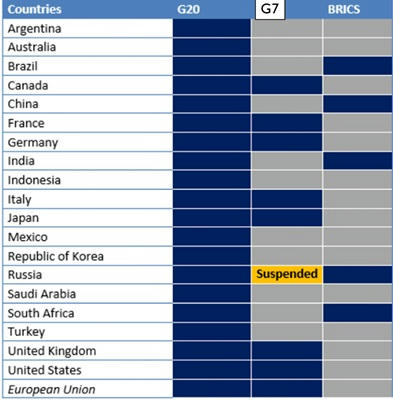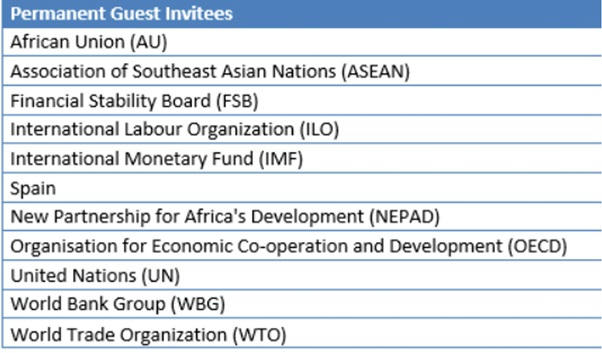 Why G20 is so important ?
It is the only global platform where developed and developing countries can engage.
Unlike G7 that has not been able to resolve global issues, G20 has been very useful in solving major global issues.
Many bilateral and trilateral meetings can happen during a G20 summit.
Groups that meet during G20 summit :
Big Four (Western Europe) – France, Germany, Italy and the United Kingdom
JAI : Japan, USA, India
BRICS : Brazil, Russia, India, China, South Africa
BASIC : Brazil, South Africa, India, China
RIC(Russia, India, China) : It is a trilateral grouping of Russia, India and China that has met annually since 2002. In recent years, it has functioned as complement to other frameworks involving three countries and including Shanghai Cooperation Organization (SCO).
 India and G20 2019 summit :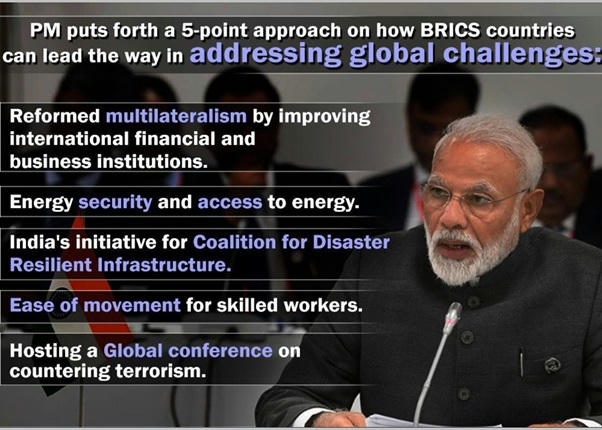 Additional references : https://youtu.be/cLxjFjs-Adg
Make Notes