Tag : GS1 || Arts and culture || Visual arts || Architecture
Why in news ?
An ancient Buddhist site in UP's Sarnath known as Chaukhandi Stupa has been declared to be "of national importance" by the Archaeological Survey of India (ASI).
About Chaukhandi Stupa :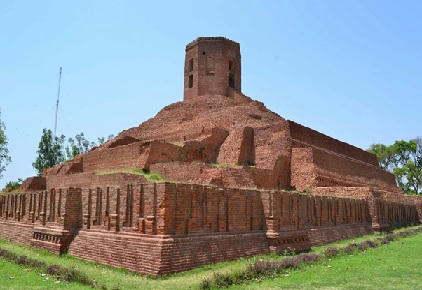 Chaukhandi Stupa is a Buddhist stupa in Sarnath, located 8 kilometres from Cantt Railway Station Varanasi, Uttar Pradesh, India.
Chaukhandi Stupa was built to mark the place where Buddha met his first disciples Panchavargiya Bhikshus (Buddha's five companions) who had previously deserted him at Rajgir, as he traveled from Bodhgaya to Sarnath.
The first disciples of Buddha were his five friends who supported him during his 6 years of dushkarak kriya (self mortification) named Kondanna, Bhaddiya, Vappa, Mahanama and Assaji.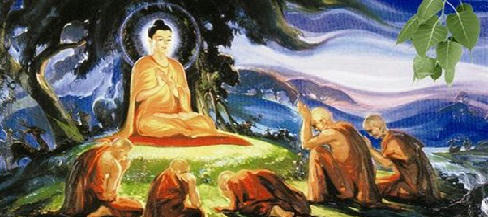 The stupa got its name Chaukhandi' because of its four armed plan.
It is a lofty mound of brick whose square edifice is surrounded by an octagonal tower.
The stupa is an ancient Buddhist site which evolved from burial mounds and served as a shrine for a relic of Buddha.
It appears to be in ruins and was originally constructed in 5th Century AD.
It also finds mention in account of Hiuen Tsang, celebrated Chinese traveler of 7th century AD.
The Chaukhandi Stupa is said to be originally a terraced temple during the Gupta period (4th to 6th century).
What is Ancient Monument of National Importance?
Section 4 of Ancient Monuments and Archaeological Sites and Remains Act, 1958 empowers government to declare ancient monuments or archaeological sites which are of historical, archaeological or artistic interest and which have been in existence for not less than 100 years as of national importance.
Role of ASI: The protection and maintenance of monuments, declared as of national importance is taken up by ASI by way of chemical preservation m structural repairs, environmental development around the monument.
About ASI :
The ASI is an Indian government agency attached to the Ministry of Culture.
It is responsible for archaeological research and the conservation and preservation of cultural monuments in the country.
It was founded in 1861 by Alexander Cunningham who also became its first Director-General.
Make Notes