Tag:GS3 || Security || Internal security threats || Terrorism
What is the issue exactly ?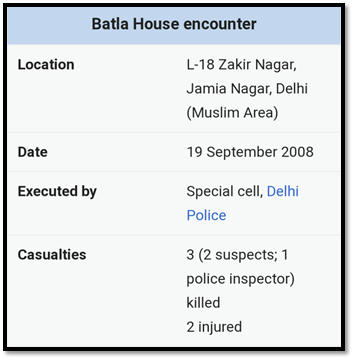 Batla House encounter officially known as Operation Batla House, took place on 19 September 2008, against Indian Mujahideen (IM) terrorists in Batla House locality in Jamia Nagar, Delhi, in which two terrorists, Atif Ameen and Mohammad Sajid, were killed while two other Mohammad Saif and Zeeshan, were arrested, while Ariz Khan managed to escape.
Encounter specialist and Delhi Police inspector Mohan Chand Sharma was martyred during the incident.
The encounter led to arrest of a number of local people, leading to widespread allegations and protests by political parties, civil society groups, activists, especially teachers and students of the Jamia Millia Islamia University.
Several political organizations like Rashtriya Ulama Council which brought a full train of protestors from Azamgarh to Jantar Mantar, Delhi demanding an independent Judicial Enquiry whereas the Samajwadi Party and Bahujan Samaj Party (BSP) demanded a judicial inquiry into the encounter, in the Parliament, as "new versions" of the encounter, started appearing in the newspapers.
Subsequently, on the Delhi High Court's directive on 21 May 2009, the National Human Rights Commission (NHRC) in its 22 July report cleared the police of any violations of rights.
The incident took place a week after five serial blasts on 13 September 2008 that hit Delhi in which at least 30 people were killed and over 100 injured.
The killing of Atif Amin, who was the chief bomber of the Indian Mujahideen, had dealt a severe blow to the group, which earlier been blamed for terror attacks between 2007 and 2009, in Delhi, Ahmedabad, Jaipur, Surat and Faizabad, according to investigating agencies.
On the two-year anniversary of the encounter a shooting took place at the gates of historic Jama Masjid, Delhi, in which two foreign tourists were injured, apart from that a car bomb with failed timer was also found in the vicinity.
The police had filed the chargesheet against Shahzad, Ariz Khan (absconding), Atif Ameen and Mohammed Sajid on 28 April 2010, accusing them of killing Inspector Sharma on 19 September 2008.
On 15 February 2011, Additional Sessions Judge Ajay Kumar Kuhar framed charges against accused Shahzad Ahmed alias Pappu for the offences of murder (Section 302), attempt to murder (Section 307), section 333 (causing hurt to public servant), 353 (assault to deter a public servant from discharge of his duty), 186 (obstructing public servant in discharge of his public functions) and 201 (causing disappearance of evidence) of the Indian Penal Code, besides section 27 of the Arms Act for his role in the 'encounter'.
The case was referred to T D Dogra of AIIMS New Delhi for expert opinion, subsequently he appeared in court of law as an expert witness, he had explained the event through animation. On 25 Jul 2013, the Saket sessions court in its judgement convicted one of the suspects, Shahzad Ahmad, for murder of police inspector Mohan Chand Sharma and attempted murder of Head Constables Balwant Singh and Rajbir Singh. The court also found Ahmad guilty of obstructing and assaulting public servants, and grievously injuring the police officers to deter them from performing their duty.
After the verdict, Shahzad's defense counsel Satish Tamta accused that the court had proposed its own theory while arriving at the conclusion that Shahzad had escaped after shooting at police officers. And court came to the conclusion after 70 witnesses,including six eye witnesses of the raiding team of Delhi police special cell On 28 August, Yasin Bhatkal, the Chief of Indian Mujahideen was arrested from India-Nepal Border. Yasin had allegedly fled the Batla House, minutes before the encounter took place
The encounter :
The encounter took place only after seven member Delhi Police team led by Mohan Chand Sharma Inspector in the Special Cell of Delhi police, stumbled upon IM commander Atif Amin and his comrades in their rented address at L-18, Batla House in the morning of 19 September 2008.
The team had received specific information that a suspected person wanted in connection with the serial bomb blasts in Delhi was hiding in a flat in Batla House area of Jamia Nagar.
Upon reaching the four-storied house the police's attempt to storm the flat on the second floor at around 10 30 AM (IST) led to a heavy exchange of fire. Sharma received the first burst of fire from the terrorists holed up inside. After the ensuing exchange of fire two suspected terrorist, Atif Amin and Mohammad Sajid were killed, two other suspects Mohammad Saif and Zeeshan were arrested, while one managed to escape.
Also two Delhi police personnel were injured, among which, Sharma who led the operation, later succumbed to the injuries. Later, the intelligence team said that the arrested had links with Dubai and further questioned if they had any link with Dawood Ibrahim.[22]
It is now learnt that Mohammad Sajid was not killed and he later surfaced in Syria as an ISIS recruiter.
Aftermath of the incident :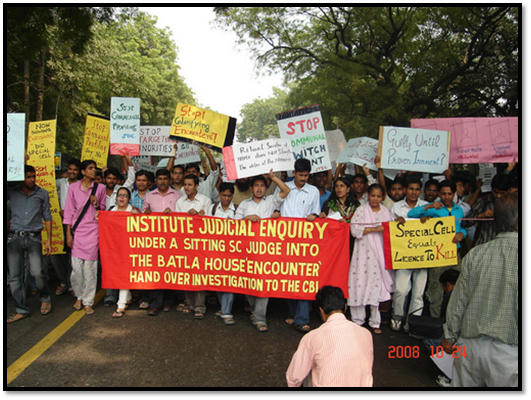 After the incident accusations were raised against the Delhi Police by various politicians, media and civil society outfits of carrying out a fake encounter.
Upon the plea filed by an NGO, "Act Now For Harmony and Democracy", the Delhi High Court on 21 May 2009 asked the National Human Rights Commission (NHRC) to enquire into the police version of the encounter, and submit its report in complete within two months.
Subsequently, on 22 July, NHRC after its investigations, in 30-page report submitted its report which gave a clean chit to Delhi Police in the case.
The inquiry ruled out the conspiracy theory suggestion that it was "inter-departmental rivalry" which might have led to the death of Inspector M C Sharma on the basis of postmortem report that he had a gunshot wound on the "hypochondriac region of the abdomen", which ruled out an attack from behind.
In August 2009, the Delhi high court accepted the findings of NHRC and declined to institute a judicial probe.
Sharma was a much decorated police officer and had won seven gallantry medals including the President of India's Medal in 2009. He was posthumously awarded India's highest peacetime military decoration the Ashoka Chakra on 26 January 2009.
Make Notes