Relevance
GS2 || International Relations || International Organizations || AIIB
Why in news?
India will need about USD 4.5 trillion in the next 25 years for infrastructure development
About AIIB
The Asian Infrastructure Investment Bank (AIIB) is a multilateral development bank initiated by China that aims to support the building of infrastructure in the Asia-Pacific region.
It is viewed as Asia's response to West-dominated Asian Development Bank (ADB) and World Bank (WB).
It was officially established in December 2015 with mission to improve social and economic outcomes in Asia and beyond and opened for business in January 2016.
It is headquartered in Beijing, China.
Its goals are to boost economic development in Asia-Pacific region, provide infrastructure, and promote regional cooperation and partnership. It priorities investments in energy, power generation, transport, rural infrastructure, environmental protection and logistics in Asia.
The starting capital of the bank was $100 billion, equivalent to 2⁄3 of the capital of the Asian Development Bank and about one third that of the World Bank.
Capitals around the world
The authorised capital of the World Bank is $280 billion, the Asian Development Bank $164 billion, the Inter-American Development Bank $171 billion, the African Development Bank $103 billion, and the European Bank for Reconstruction and Development $39 billion.
India and AIIB
India has emerged as a top borrower from the China-sponsored Asian Infrastructure Investment Bank (AIIB) with USD 1.5 billion worth of loans last year and USD three billion more in the pipeline.
Almost 28 per cent of the money lent by AIIB in first two years of operation has gone to projects in India
India is also the only country apart from China to enjoy a permanent seat on the Bank's board of directors.
The biggest AIIB loan to an Indian project approved so far has been US$335 million for a metro rail project in the southern Indian city of Bangalore that includes 13.6 miles (22km) of railway line and 18 stations.
India is the second largest shareholder, with 7.7 per cent of the votes, followed by Russia with 6.1 per cent and Germany with 4.27 per cent.
India needs $4.5 trillion to finance and achieve holistic development of its infrastructure.
Domestic banking institutions and finances are insufficient to meet such high demand for investment, and thus, the role of multilateral institutions targeting infrastructure projects such as NDB, AIIB assumes significance.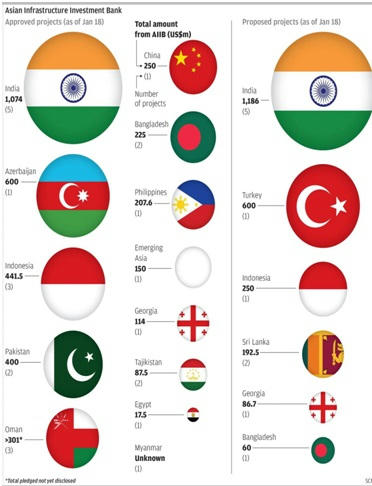 Annual meeting of AIIB
The 3rd Annual Meeting of Asian Infrastructure Investment Bank (AIIB) concluded in Mumbai, Maharashtra in optimistic note to raise its lending capacity to boost prosperity and security in Asia.
The meeting was jointly organised by Department of Economic Affairs under Union Finance Ministry and AIIB.
The theme of third meeting was 'Mobilising Finance for Infrastructure: Innovation and Collaboration'. It was attended by over 3,000 delegates from 86 member countries of AIIB.
The first AIIB board of governors annual meeting was held in Beijing, China in 2016 and second in Jeju, South Korea in 2017 . The fourth annual meeting will be held in Luxembourg in July 2019. Luxembourg is a founding member of AIIB.
Make Notes