Relevance
GS 3 || Economy || Infrastructure || Transportation
 Why in News?
The Ministry of Road Transport and Highways has inventorize 1,72,517 bridges/structures under Indian Bridge Management System (IBMS)
These structures comprise 1,34,229 culverts, 32,806 minor bridges, 3,647 major and 1,835 extra-long bridges.
 Basic Info
IBMS creates an inventory of all bridges in the country and rate their structural condition so that timely repair and rehabilitation work can be carried out based on the criticality of the structure.
IBMS is the largest platform in the world owned by a single owner, with a database that could exceed 1,50,000 bridge structures.
So far 1,15,000 bridges have been inventoried, of which 85,000 are culverts and the rest are bridges
 Necessity?
Lack of any database on bridges in the country has led to a situation where there is no clear idea about the exact number and location of bridges.
Hence, it has become difficult to maintain bridges in proper working condition.
Poor condition of bridges hampers efficient transport and has also led to accidents and loss of lives on several occasions
 How it operates?
During inventory creation each bridge is assigned a unique identification number or National Identity Number based on the state, RTO zone and whether it is situated on a National Highway, State Highway or is a district road.
Then the precise location of the bridge in terms of latitude-longitude is collected through GPS and based on this, the bridge assigned a Bridge Location Number.
Thereafter, engineering characteristics like the design, materials, type of bridge, its age, loading, traffic lane, length, width of carriage way etc are collected and are used to assign a Bridge Classification Number to the structure.
These are then used to do a structural rating of the structure on a scale of 0 to 9, and each bridge is assigned a Structural Rating Number.
The rating is done for each component of the structure like integral and non integral deck, superstructure, substructure, bank and channel, structural evaluation, deck geometry, vertical clearance, waterway efficiency etc.
In addition to the structural rating, the bridges are also being assigned Socioeconomic Bridge Rating Number which will decide the importance of the structure in relation to its contribution to the daily socioeconomic activity of the area in its vicinity
Based on this inventory IBMS will analyse data and identify bridges that need attention. Further inspection will be carried out wherever required to improve the operational availability of the structure, enhance its life and prioritize repair and rehabilitation work. The data will help to decide which bridge needs critical attention, or which needs to be rebuilt.
 Flowchart of operation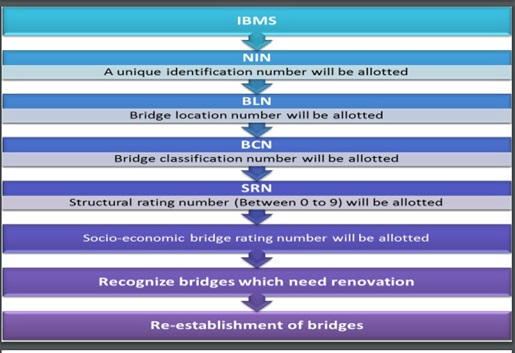 Practice Question
How is road infrastructure maintenance in India?
Make Notes