Relevance
GS2 || International Relations || International Organizations || Specialized Agencies of UN
Why in news?
In January 2019 Palestinian President Mahmoud Abbas assumed chair for the Group of 77, the biggest UN bloc of developing countries, a position that raises Palestine's international standing significantly.
How is chairmanship of G77 decided?
The chairmanship of the G77 is based on the system of geographical rotation. 2019 was Asia's turn and the Asian group had unanimously endorsed Palestine.
Egypt was representing the African Group of countries.
About G77
The Group of 77 (G77) at the United Nations is a coalition of 134 developing nations, designed to promote its members' collective economic interests and create an enhanced joint negotiating capacity in the United Nations.
G77 was formed on 15 June 1964 by the "Joint Declaration of the Seventy-Seven Countries" issued at the United Nations Conference on Trade and Development (UNCTAD).
Since China participates in the G77 but does not consider itself to be a member, all official statements are issued in the name of The Group of 77 and China.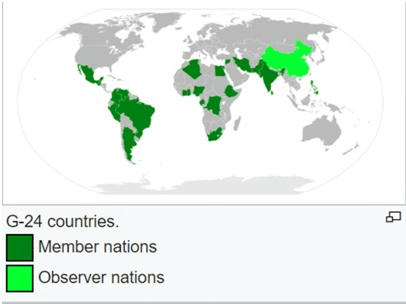 About G24
The Group of 24 (G-24) is a chapter of the G-77 that was established in 1971 to coordinate the positions of developing countries on international monetary and development finance issues and to ensure that their interests were adequately represented in negotiations on international monetary matters.
Every member of the G-24, except for Mexico, is also a member of the G77. Although membership in the G-24 is strictly limited to 24 countries, any other member of the G-77 can join discussions.
Major boost for palestine
After chairing G77 Palestine can officially try to get a seat in the UN
Palestine will launch a bid to become a full member of the United Nations, Palestinian Foreign Minister Riyad al-Maliki said the Palestinians presented a request for UN membership in 2011,
but that application never came to a vote.
But will palestine get UN membership?
The bid will go ahead despite the United States having said it will veto Palestine's membership plans.
S has close ties with Israel and Israel doesn't want Palestine to become a member of the U.N
Additional information – how does a new state or government obtain recognition by the united nations?
The State submits an application to the Secretary-General and a letter formally stating that it accepts the obligations under the Charter.
The Security Council considers the application.
Any recommendation for admission must receive the affirmative votes of 9 of the 15 members of the Council, provided that none of its five permanent members — China, France, the Russian Federation, the United Kingdom and the United States of America — have voted against the application.
Make Notes