Relevance
GS 2 || Polity || Constitutional Framework || Amendment of the Constitution
Why in News?
The recently passed Constitution (124th Amendment) Bill, 2019, creating a 10% quota for the economically weaker sections (EWS), will serve as anything more than a band-aid.
Who are backward people and what is reservation?
When we talk about backward it may be financially backward or from backward caste. Reservation simply means reserving seats in the field of education, jobs or other economic benefits.
About the bill
The bill passed within a week, which shows the lack of documentation to assign the quota. Reserved quota is mixed blessings for the people.
Government decisions to the quota structure

Government ensures that impact of quota will not impact on other categories.
Government directed towards creating additional 25% seats in universities.
It also decided to provide funds for universities for additional seats but how much is yet to be cleared.
Railway ministry declared that additional 2.3 Lakh job would be generated in next two years.
TN Reservation Policy
Reservation works out to somewhat less than 69%, depending on how many non-reserved category students are admitted in the supernumerary seats
The proposed amendment Bill will define Economically Weaker Section (EWS) as:
Annual household income below Rs 8 lakh.
Agriculture land below 5 acres.
Residential house below 1000 sqft.
Residential plot below 100 yards in notified municipality.
Residential plot below 200 yards in non-notified municipality area.
 Limiting the reservation for other categories
The benefits of the EWS quota are likely to be minimal, the cost may be higher than one anticipates.
It is important to remember that general category jobs are open to everyone, including Scheduled Caste (SC), Scheduled Tribe (ST) and OBC individuals.
Thus, by removing 10% jobs from the "open" category, it reduces the opportunities for currently reserved groups.
This may be particularly problematic for OBCs since the OBC reservation is limited to 27% of the seats, whereas the OBC population is at least 40% of the population, possibly more.
This move is almost certain to result in calls for greater OBC reservation, particularly if a constitutional amendment to increase the proportion of reserved seats from 50% to 60% is already being adopted.
In how many seats can you compete once EWS Reservation Quota is introduced?
If you belong to general merit, you can compete only in 50% seats as 59.50 seats are reserved.
If you are an ST, you can compete in 48% seats (7.5% reservation quota seats+ 40.5% merit seats).
On the same lines, SC category candidates can compete in 55.5% seats (15% reservation quota seats+ 40.5% merit seats) while OBC category candidates can target 67.5% seats (27 % reservation quota seats+ 40.5% merit seats)
The new changes paint a darker picture of the exclusion aspect.
Now, about 60% of seats are excluded from the general merit category. They can't compete in these seats – because these seats are reserved for somebody else.
Everybody – except EWS – lost 10% seats. ST's are excluded from 52% seats, and SCs are excluded from 44.50% seats. OBC too lost 10% seats, however, their position is relatively better – excluded only from 32.50% seats.
Reasons for the present system
87 % of the population are backward.
Dravidian politics from early 1900 was very vocal against brahmins and other upper castes.
The political power in the state revolves around the backward classes.
No reasonable objections from upper caste.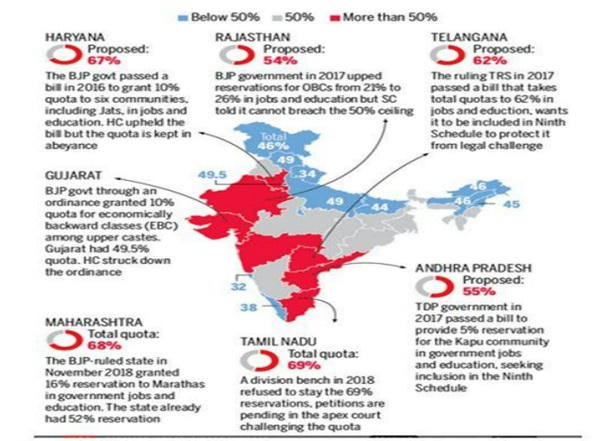 The 10% Quota in TN – A Different Ballgame
79% doesn't seem much in Tamil Nadu because the population of forward castes in Tamil Nadu is lesser compared to other states
Constitutional provisions related to Reservations
Article 46 – promote the educational and economic interests of SCs, STs, and other weaker sections of the society and to protect them from social injustice and exploitation.
Article 338 –National Commission for Scheduled Castes investigate and monitor all matters relating to the constitutional and other legal safeguards for the SCs and to evaluate theirworking;inquire into specific complaints with respect to the deprivation of rights and safeguards of the SCs.
338-A –National Commission for ScheduledTribes. Its functions are same as that of NCSC, but with respect to ST than SC.
Way forward
The reservation nourishes the historically disadvantaged castes and tribes, listed as Scheduled Castes and Scheduled Tribes (SCs and STs) by the Government of India and also those designated as Other Backwards Classes (OBCs).
It would take political courage and effective governance of a high order to push back against quota politics. Even then, the results would be slow in coming.
Reservation is no doubt, one of the appropriate positive discrimination tool for the benefit of downtrodden and backward section. But in India the policy of reservation has never been subject to a widespread social or political audit.
The constitution has recognised three basic parameters to be satisfied simultaneously by a group to avail reservation – social, economic and educational backwardness. This principle should not be dented as that will amplify the structure of reservation badly.
The only way to ensure that is to level the playing field, through better education and training, and a constant vigil that would ensure action against those who undermine the equality for all promised by the Constitution.
As a nation, we should hope to empower the underprivileged rather than sympathizing with them and giving them the option to escape the hard route. Offering them the same quality of education and training will go a long way in developing them and helping them rise above the 'underprivileged' status.
Additional Info- A brief timeline of events
1946

Reservation for Scheduled castes was increased from 33% to 12.33%

1946-48

Reservation for Schedule Castes was expanded to 16.66%

1951

16% Reservation for SC/ST and 25% Reservation for OBCs introduced. Total Reservation Stood at 41%

1971

Sattanathan Commission recommended Introduction of "Creamy Layer" and altering Reservation percentage for Backward Classes to 16% and separate reservation of 17% to Most Backward Classes (MBCs).
The DMK Government increased OBC reservation to 31% and Reservation for SC/ST has been increased to 18%. Total Reservation stood at 49%.

1980

ADMK government excludes "Creamy Layer" from OBC reservation benefits. Income Limit for availing Reservation benefit has been fixed at Rs 9000 Per Annum. DMK and other Opposition parties protested the decision.
Creamy Layer scheme withdrawn and Reservation % for OBC has been increased to 50%. Total Reservation Stood at 68%.

1989

Statewide Road Blockade Agitations were launched by VanniarSangam (Parent Body of PattaliMakkalKatchi) demanding 20% reservations in State Government and 2% Reservations in Central Government exclusively for Vanniyar Caste.
DMK Government Split OBC reservations as 2 Parts with 30% for OBC and 20% for MBC. Separate Reservation of 1% introduced for Scheduled Tribes.Total Reservation percentage stood at 69%.

1992
Supreme Court, in MandalJudgement, reiterated that Reservation percentage cannot exceed 50% and "Creamy Layer" to be excluded from Reservation benefits.
1994

The Court instructed Tamil Nadu Government to follow 50% reservations in the case filed by famous lawyer M. Vijayan on behalf of VOICE Consumer forum.
Anandakrishnan, one of the members of Oversight committee, and then Anna University Vice-Chancellor announced that 50% reservation will be followed.69% Reservation was included in 9th Schedule. K. M. Vijayan was brutally attacked and maimed while leaving to New Delhi to file case in Supreme Court against inclusion of 69% reservation in 9th Schedule.

May 2006 -August 2006

Anti Reservation Protests intensified in many parts of India. Pro reservationists claim protests were intensified by media bias."Tamil Nadu stayed calm. This is attributed to the low percentage of Forward castes in Tamil Nadu (13%) as against 36% in India.

April 2008

The Supreme Court of India upheld the law that provides for 27% reservation for Other Backward Castes (OBCs) in educational institutions supported by the Central government, while ruling that the creamy layer among the OBCs should be excluded from the quota.
Mains Question
Instead of addressing inequality, the 10% quota for economically weaker sections creates huge anxieties. Give your arguments in this regard of this statement.
Make Notes