Relevance
GS 3 || Disaster Management || Major Disasters || Tsunami
Why in News?
Major Tsunami hit southern China in 1076 and China still has a considerable probability of another big tsunami
 Research Team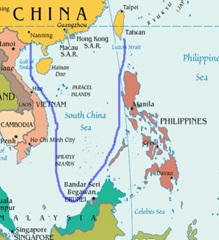 A major tsunami struck China's southern coast in 1076 causing "drastic cultural decline". Chinese researchers say, in a study with implications for a densely populated region boasting multiple coastal nuclear power plants.
There is a growing body of scientific evidence suggesting an earthquake in the Manila Trench sent a wall of water coursing into what is now China's Guangdong province around a thousand years ago.
Now scientists believe they have narrowed down the date to an exact year — 1076 — and say the new data should set alarm bells ringing over whether enough is being done to defend against future tsunamis.
"This study confirms the risk of tsunamis in the South China Sea," the teams from the University of Science and Technology and East China Normal University wrote in January's issue of Chinese Science Bulletin.
"Such risk should be considered in future planning and construction of nuclear power plant, harbor and petroleum reserve structures on the coastlines of China," they added.
 Risk from Tsunami
A number of nuclear power plants sit on China's southern coast including at Fuqing, Daya Bay and a soon-to-open plant at Taishan.
The wider area is also one of the world's most densely populated regions and includes multiple major coastal cities such as Hong Kong, Macau, Xiamen, and Quanzhou.
The vulnerability of nuclear power plants to seismic events has become a major cause for concern ever since a 2011 earthquake and subsequent tsunami crippled Japan's Fukushima power plant, the worst nuclear accident since Chernobyl.
Additional Info – What is Tsunami?
Tsunamis are large waves generated by sudden movements of the ocean floor that displace a large volume of water. Although usually associated with earthquakes, tsunamis can also be triggered by other phenomena like submarine or terrestrial landslides, volcanic eruptions, explosions or even bolide (e.g., asteroid, meteor, comet) impacts.
Tsunamis have the potential to strip beaches, uproot plantations, and inundate large inland tracts and extensively damage life and property in coastal areas.
 Mains
What impacts disasters can pose on Infrastructure?
Make Notes