Relevance
GS 3 || Economy || Infrastructure || Power
 Why in news?
The Centre has signed an agreement with Chief Ministers of five States — Uttar Pradesh, Rajasthan, Uttarakhand, Delhi, Himachal Pradesh — to restart construction of the Renuka multipurpose dam project in the Upper Yamuna Basin.
 Details
The Renuka dam project has been conceived as a storage project on the Giri river (a tributary of the Yamuna) in Sirmaur district of Himachal Pradesh.
The project envisages making a 148-metre-high dam for supplying water to Delhi and other basin States. It will also generate 40 MW of power.
Funding: Around 90% of the cost of irrigation/drinking water component of the project i.e. ₹3,892.83 crore will be provided by the Central government and the remaining ₹432.54 crore by the rest of the basin States.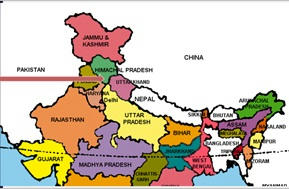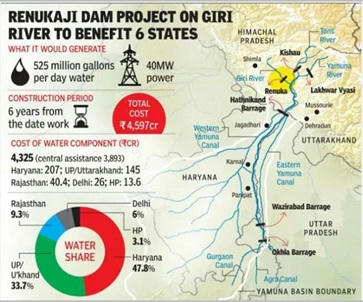 Important dams near eachother
Lakhwar project on river Yamuna in Uttarakhand
Kishau on river Tons in Uttarakhand and Himachal Pradesh
Renukaji on river Giri in Himachal Pradesh
These three projects were conceived in 2008 and were identified as National Projects.
 Additional information – significance of the project
After the construction of the dam, the flow of the Giri river will increase by about 110%, which will help meet the drinking water needs of Delhi and other basin States.
Water from the Renuka dam will be used by U.P., Haryana and National Capital Territory of Delhi from Hathnikund barrage, by the NCT of Delhi from Wazirabad barrage and by U.P., Haryana and Rajasthan from the Okhla barrage.
Make Notes