Relevance
GS 2|| International Relations || International Organizations || SAARC
Why In News?
The Ministry of Power (MoP) has issued new guidelines for import and export of electricity and power trading with neighboring countries.
Problems with the 2016 guidelines
Afghanistan, Pakistan, India, Maldives, Sri Lanka, Nepal, Bhutan, Bangladesh. A common approximate synonym for South Asia is the Indian subcontinent, plus Afghanistan.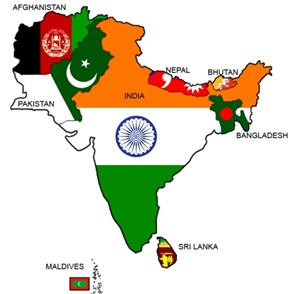 Major restrictions from India in power trade. The guidelines prevented anyone other than Indian generators in the neighbouring country from selling power to India. The country from which India is importing electricity should have a majority share of that Indian power company.
The defensiveness of India in the guidelines of 2016- China established its power producing companies in different countries and to counter China, India made restrictive power trade policies with neighbouring countries.
Many privately held companies, particularly in Nepal, that had hoped to trade with India were excluded.
Restricting access to the vast Indian market, the economic rationale for Nepali hydro-power built for export was lost.
Bhutan was also concerned about the limited access to India's main electricity spot markets.
This created friction in joint ventures between India and Bhutan.
Bangladesh had sensed an opportunity to partially address its power crisis with imports from Bhutan and Nepal routed through Indian territory, but the guidelines complicated this by giving India disproportionate control over such trade.
Key features of the 2018 guidelines
To facilitate and promote cross-border trade of electricity.
Problems of 2016 guidelines were taken under considerations and electricity trade became less restrictive.
While the earlier guidelines allowed cross border power transactions only through bilateral agreements between two countries, the new guidelines allows power generating or distribution companies of India to export electricity generated by coal (with certain restrictions), renewable energy or hydro power to companies of neighboring countries directly or through trading licensees of India after taking government approval.
Why course correction?
In the early 2000s, India Power trade with the SAARC countries for cross-border energy flows.
It began to gain steam with substantial power trade agreements between India and Bhutan (2006) and Bangladesh (2010).
These were driven by India's need for affordable power to fuel quickened growth in a recently liberalised economy.
They seemed to be a reaction to perceptions of increased Chinese investment and influence in the energy sectors of the South Asian neighbours.
Significance of 2018 guidelines
India seems to have acknowledged that the sinews of economic interdependency created by such arrangements have the political benefit of positioning India as a stable development partner rather than one inclined to defensive realpolitik.
Greener grid
As India transitions to a power grid dominated by renewable, regional trade could prove useful in maintaining grid stability.
Way forward
This would soften the hard borders of South Asia, it is essentially a political vision.
At present, this function is managed by the Indian state because of its geographic centrality and the ready availability of institutions that manage its domestic power sector.
As volumes increase and experience in regional trade grows, South Asian nations might feel the need to build joint, independent regional institutions that proffer clear and stable rules of the road. The political vision to create this — felt in the new guidelines — must be maintained.
Additional Info–SAARC
The South Asian Association for Regional Cooperation (SAARC) is regional intergovernmental organization and geopolitical union of nations in South Asia.
The union consists of 8 member states– Afghanistan, Bangladesh, Bhutan, Nepal, India, Pakistan, Sri Lanka and Maldives.
The foundation of SAARC was laid in 1985 in Dhaka. SAARC is headquartered at Kathmandu, Nepal.
1st summit at Dhaka, only 1 new member added since birth i.e. Afghanistan
Observers Of SAARC
States with observer status include Australia, China, the European Union, Iran, Japan, Mauritius, Myanmar, South Korea and the United States.
SAARC Objectives
SAARC policies aim to promote welfare economics, collective self-reliance among the countries of South Asia, and to accelerate socio-cultural
development in the region
To promote the welfare of the people of South Asia and to improve their quality of life
To cooperate with international and regional organizations with similar aims and purposes
To promote active collaboration and mutual assistance in the economic, social, cultural, technical and scientific fields
To contribute to mutual trust, understanding and appreciation of one another's problems; & to maintain peace in the region
The most important factor is that India is the only country, which shares borders with all the SAARC countries, barring Maldives and Afghanistan. The implication of this geographical reality is that India has to facilitate the establishment of strong economic linkages with the neighbouring countries.
India is the biggest and economically developed nation among SAARC nations. Although SAARC is infected with multiple issues like terrorism, border disputes, tax issues, etc., it can also play a vital role in enhancing mutual trust, a safe trade environment in the region. Besides trade, peaceful development of Afghanistan is in the interest of the region as terrorism is mainly sourced from unstable states
Practice Questions
The new electricity guidelines are a first step towards creating a true regional market. Critically examine the statement.
Make Notes