Relevance
GS3 || Economy || Infrastructure || Transportation
 Why in news?
A cross-country, over 1,200-km-long product pipeline project of Indian Oil Corporation to augment fuel supplies in Telangana, Andhra Pradesh and Odisha got formally off the ground with Prime Minister Narendra Modi laying the foundation stone in Odisha recently
 About paradip-hyderabad pipeline
The Paradip-Hyderabad pipeline will be one of the longest in the region and have a capacity to handle 4.5 million tonne products – petrol, diesel, kerosene and aviation turbine fuel.
The ₹3,808-crore project would augment fuel supplies in the three States that are witnessing major infrastructure development, including that of a capital city, and rapid industrialisation.
Besides supplies, the pipeline would deliver benefits accruing from the safe, cost effective, energy efficient and environment friendly movement of products.
With most of the land acquisition, permissions, statutory clearance in place and with those remaining expected in a month, the officials associated with the project expect the pipeline to be commissioned by August 2020.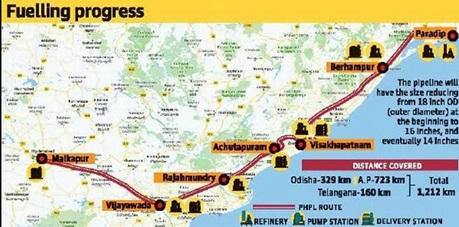 About pipelines in India
Pipelines are most convenient, efficient and economical mode of transporting liquids like petroleum, petroleum products, natural gas, water, milk, etc. Even solids can also be transported through pipelines after converting them into slurry.
Pipelines have relieved the increasing pressure on the existing surface transport system (railways and roadways).
Asia's first cross country pipeline covering a distance of 1,157 km was constructed by OIL from Naharkatiya oilfield in Assam to Baraunirefinery in Bihar. It was further extended up to Kanpur in 1966.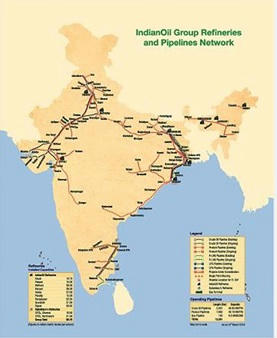 Additional information – map of oil refineries in India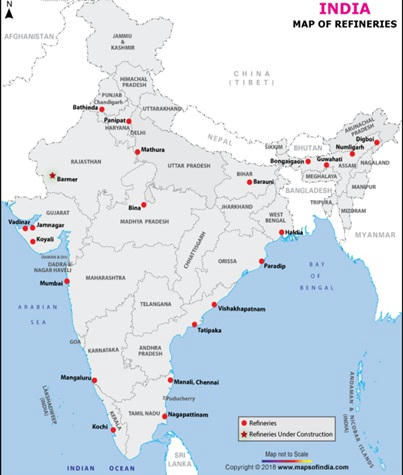 Make Notes